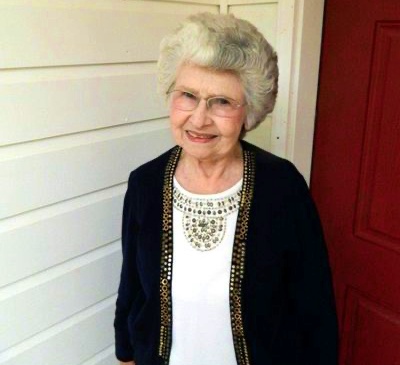 Long time Blind Pig and The Acorn reader Ethelene Dyer Jones passed away on Friday November 26, 2021. Ethelene was 91 years old.
Ethelene was one of my earliest readers. I searched the comment archives and found she left her first comment way back in 2009. And in true Ethelene fashion, in that comment she invited me to her upcoming family reunion which was held in the Choestoe section of Union County Georgia. I went to the reunion and had a wonderful time. There was a history lesson on members of their family line, many of whom lived during Revolutionary War times. Of course there was great food and I also got to meet Ethelene's son Keith who became a long time Blind Pig and The Acorn reader as well as a friend.
Here's a brief paragraph from Ethelene's obituary:
"Ethelene was born in Choestoe, GA on May 13, 1930 to the late Jewel Marion Dyer and the late Azie Collins Dyer. In addition to her parents, she was also preceded in death by her husband, Rev. Grover Duffie Jones, and by her son, Rev. Keith Jones. Having been a native of Union County, Ethelene began teaching in a one room school in Choestoe, GA. She retired from the Fannin County School System as a media specialist, and had written weekly articles for the News Observer in Blue Ridge, GA. Being a pastor's wife, she served with her husband all over Georgia for 32 years. She was a member at First Baptist Church in Milledgeville."
Over the years Ethelene wrote many guest posts for me. You long time readers will remember her writing, but I encourage all of you to follow the links below. I know you'll enjoy Ethelene's writing as much as I do.
I'll share one more of Ethelene's writings from my archives. It's a lovely poem that incapsulates how I feel when I leave Brasstown and long to return.
The Lands of Home-Again
Far away the birds fly toward the forest's quiet vales;
Above the fields the mountains rise in blue crests.
Choestoe Creek runs over shoals, murmurs and hails
The leaves that drop quietly from above hidden nests
That rest on limbs outstretched above the stream.
This scene is real, a paradise, not some wild dream.
Go with me there, to the land of home-again,
Where we will quietly and slowly regain
Perspective for the years that yet remain.
Ethelene Dyer Jones 2014
---
Tipper
Subscribe for FREE and get a daily dose of Appalachia in your inbox