A few weeks ago, I told you about Granny sharing the old saying "the sun is drawing water" with me. The post generated a lot of comments-clearly showing the saying was common in many parts of the US, and that it can still be heard today.
As sometimes happens, the thought behind the sunshine post spawned a few other sunshine related posts. Today's guest post is one of them, and it was written by Ethelene Dyer Jones.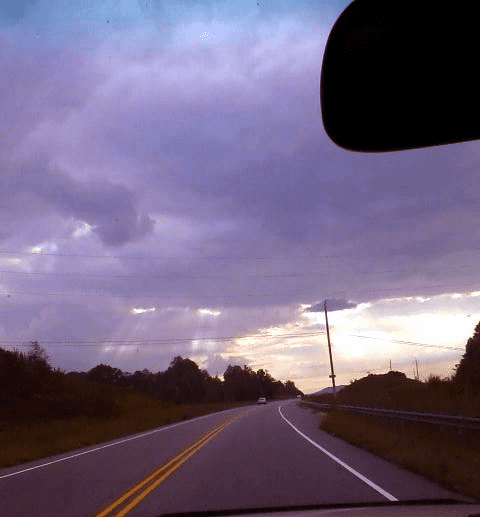 Sun Drawing Water written by Ethelene Dyer Jones
Tipper, your photograph and phrase, "Sun Drawing Water" took me back to times when my parents and other relatives in our Appalachian section of North Georgia pointed out the phenomenon to us. And nearly always with seeing "the sun drawing water" image between earth and sky came this weather prediction: "We'll soon have rain." As I recall, that happened soon after we observed "the sun drawing water."
Your mention of it, and the comments I read early, took me on a research trek that revealed much about the phenomenon. Like John (and others) posted, the term means "crepuscular rays." Where did the term we used or the older "crepuscular rays" originate? I found it was from the ancient Greeks, who, seeking to logically explain phenomena they observed, named it that; and later navigators called the rays "backstays of the sun." And from Latin, "crespuculum" means twilight. Many times, the phenomenon is seen while there is still light but after the sun has set. But actually, such phenomena can be seen dawn to dusk. Scientifically, the rays are formed when the sun shines through rifts or
breaks in the clouds. The crystalline paths become visible to the naked eye when particles of dust in the atmosphere are touched by the light. It is a "reality parallel." The same effect, though not with light touching particles of dust, we see by looking at a railroad track as it reaches into the distance.
There are countless entries on the web about the "Sun Drawing Water." In 1872 artist William Trost Richards painted "Beach with Sun Drawing Water." It is a realistic painting of just that, the crepuscular rays through clouds above a beach. Later on, in 1933, the artist Arthur Garfield Love painted "Sun Drawing Water." He was one of the first said to be a "non-representational" artist, in that his paintings did not always represent the real objects. He was one of the school of abstract painters. But in 1925 he had written a poem which he entitled "A Way of Looking at Things" and his abstract painting of "Sun Drawing Water" was done in 1933 to illustrate his poem. I give you his poem here:
A Way to Look At Things
We have not yet made shoes that fit like sand.
Nor clothes that fit like water,
Nor thoughts that fit like air.
There is much to be done—
Works of nature are abstract,
They do not lean on other things for meaning.
The sea-gull is not like the sea,
Nor the sun like the moon,
The sun draws water from the sea,
The clouds are not like either one—
They do not keep their form forever.
That the mountainside looks like a face is accidental.
-Arthur Garfield Love (1925)
I also found a YouTube recording and power-point beautiful photography of composer Sergei Dmitriev Viluman's "Sun Drawing Water," a composition for B-flat trumpet and percussion, the recording using the trumpet with 5 gongs and a Miramba. The music is eerie in places, but nevertheless interesting, mood-catching and beautifully illustrated with a plethora of excellent photographs, all of which relate to light. Many of the photographs show images of the "Sun Drawing Water."
So, to the comments by John, who gave us a definition of the term, and Ed Ammons who so aptly complimented "Blind Pig" entries (and originator Tipper!) for giving us a "daily remedial Appalachian education," thank you for challenging me to research and find a world of information on a saying that was common to our dear ancestors. I even found this formula for "Sun Drawing Water":
Sunlight + Obstruction + Scattering Object = Crepuscular Rays (or Sun Drawing Water)
And I found, too, many beautiful photographs. As spectacular one won the "Best of 2011" in the Earth Science Photographs and was entitled (you guessed it) "Sun Drawing Water." The photograph was made in Cork, Ireland in September, 2003 by Cynan Rees at sunset and was described as showing "crepuscular rays taken after sunset diverging toward the horizon rather than away from it."
According to the culture, the phenomenon has many names: "Jacob's Ladder," (from Jacob's experience recorded in Genesis 28); the already-noted "Crepuscular Rays," "Rays of Buddha," "Ropes of Maui," the navigators' "Backrays of the Sun," and our own descriptive "Sun Drawing Water."
Now I'm sure we will all be more cognizant of this phenomenon of cylinder of light reaching from heaven to earth and caused by diffraction, reflection and scattering. Scientists tell us there are also Crepuscular Waves of the Moon which can be seen in the night sky as well as the "Sun Drawing Water" rays seen between dawn and twilight as the sun "rules by day".
——————
I hope you enjoyed Ethelene's post as much as I did! Seems the lovely sight of the sun drawing water has been a creative inspiration as well as a weather indicator for many over the course of time.
Tipper