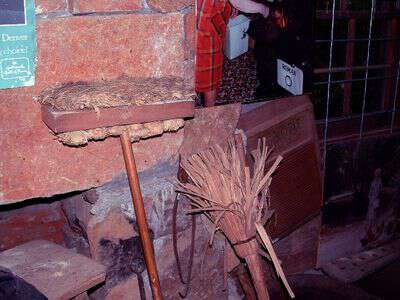 The Foxfire Museum has amazing household items from days gone by-like the mops in this photo. Harder to use than my store bought mop I'm sure-but I bet they lasted a heck of a lot longer than mine seems too.
When I was growing up, Granny kept her mop just inside the basement door. After using it, she'd hang it on a nail to let it dry. I used to get that mop and tease Paul with it-telling him it was is girlfriend. I'd pull the strands of 'hair' back and chase him around with it saying things like "Would you like to go to the movies?"
Granny used mop n glow on her linoleum floors when I was little. Since the girls were babies-I've used vinegar in my mop water.
Tipper
p.s. If you've never been to the Foxfire Museum-its a must see. Go here for more details.