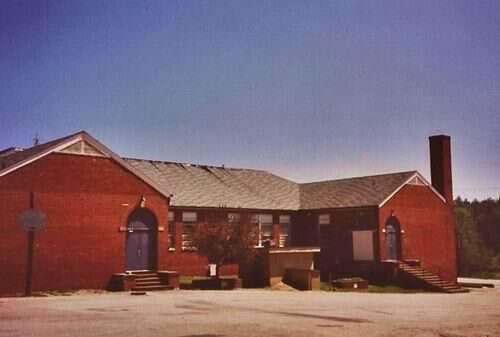 The old Martins Creek School – Photo courtesy of Susie Swanson
I loved to jump rope when I was in elementary school. There was a little room off the gym that housed all manner of things, including jump ropes and hula-hoops. Whenever it rained we were allowed to play in the gym and everyone always tried to get to the jump ropes and hula-hoops first. I never did though. On those rainy days the gym turned into bedlam with kids running and screaming. It was impossible to jump rope or hula-hoop without someone running into you or pushing you down in the name of fun.
The photo above shows the backside of the old school. That's where us girls liked to jump rope. All the traffic seemed to be in the front of the building, although the drive was circular and went all the way around. The playground was also in the front of the building, maybe that's why the backside always seemed quieter. The only time anything much went on in the back was when it was time for the buses to pick-up or drop-off.
Here's a couple of jump rope songs we sung as we took turns turning the rope for whoever was jumping:
Cinderella, dressed in yellow
Went upstairs to kiss her fellow
Made a mistake
And kissed a snake
How many doctors
Did it take?
1, 2, 3, 4, 5…
Not last night but the night before
24 robbers came to my door
As I ran out
They ran in
How many policemen came around
1, 2, 3, 4, 5…
——-
Blind Pig reader Leilani Worrell shared this one with me:
(Doctor, Doctor, come on in),
Mama's got a brand new baby,
It isn't a boy, it isn't a girl,
It's just a brand new baby.
Wrap it up in toilet paper,
Put it in the elevator,
How many floors will it go up?
(And then you would skip rope until you missed a beat.)
——-
Blind Pig reader Hazel Rawls Carr shared these jump ropes songs with me:
Butterfly, butterfly turn around
Butterfly, butterfly touch the ground
Butterfly, butterfly show your shoe
Butterfly, butterfly that will do.
Last night, the night before
A pickle and a fork came knocking at my door
I went downstairs to let them in.
They hit me over the head with a rolling pin.
My sister has a baby, his name is tiny Tim
She put him in the bathtub to teach him how to swim
He drank all the water, and ate all the soap
Now my sister's baby has a bubble in his throat.
Teddy bear, teddy bear go upstairs
Teddy bear, teddy bear say your prayers
Teddy bear, teddy bear go to sleep
Teddy bear, teddy bear don't you peep.
——-
Blind Pig reader Susie shared this one with me:
Down in the valley where the green grass grows, there stood "Debbie" (who ever was jumping) as sweet as a rose , she sang, she sang, so sweet along came "David" and kissed her on the cheek how many kisses did she get that week, 1-2-3-4-5-6-7, till you tripped up 🙂
——-
In Wanda Stalcup's book "How I Saw Cherokee County" she shares the following jump rope song:
Bubble gum, bubble gum in a dish, how many pieces do you wish? 1, 2, 3, etc. as you jump.
——-
If you remember any jump rope songs from your childhood please leave a comment and tell us about them.
Tipper
Subscribe for FREE and get a daily dose of Appalachia in your inbox