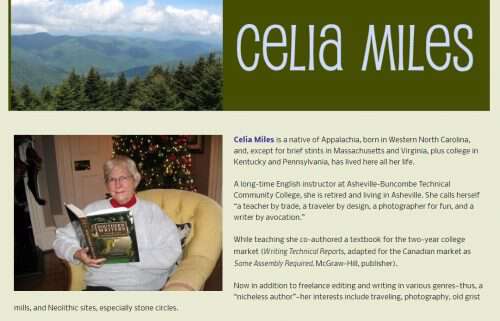 I've been a fan of Ceila Miles for several years. I believe it was Glenda Beall who first introduced me to her writing. I recently had the opportunity to ask Celia a few questions.
———————-
Did you grow up in Appalachia?
Definitely. I was born in Jackson County and until I finished the sixth grade lived "back of Dillsboro" on what we called The Bard Hill (for no reason I could ever determine). We walked to the school on Scotts Creek (black and foamy from the Mead Paper Mill in Sylva) through my fifth grade; when it was condemned we were bused to Sylva. After a year and half in Burke County, we moved to Canton where my dad worked at Champion. Except for a year in MA and one in VA, I've been in Western NC ever since. Of course, I didn't know I was growing up in Appalachia!
Did you want to write as a child? What were your writing influences?
Would the Bobbsey Twins, Nancy Drew, Trixie Belton and the Campfire Girls, Black Beauty, Little Women count as influences? I read those, plus the thick little books that were mostly westerns. My mother read the confession magazines occasionally and subscribed to the Doubleday Book Club, so there was reading material around and I was the "reader" in the family. I remember writing a novel during high school, set in some faraway place with a most romantic man…beyond that I can't recall the plot and luckily don't have the manuscript. Two books that must have influenced me: The Reckless Seven (I wish I could find it again) in which seven children had to survive after a shipwreck, and Before the Sun Goes Down, written by Elizabeth Metzger Howard in 1940 about a small town with all its conflicts, class, racial, etc. I still recommend it.
What was the first piece you ever had published?
At Berea College I published in the student creative writing magazine, then at Brevard College I had a piece in the faculty journal entitled "The Use of Quotation Marks in Virginia Woolf's To the Lighthouse." Now I have to think: who cares! While teaching for almost four decades, I didn't write much (except in red ink) until the 1990s when I began taking creative writing classes "to open up the right side of my brain." My Mattie's Girl: An Appalachian Childhood resulted from those first classes and learning "to write the natural way," which is not necessarily the English teacher's way. The vignettes were bases on fictionalized events, vague memories, stories—all authentic to my growing up in the 1940s though not "the story of my life." It's now on Kindle.
I know your writing crosses several genres-are the books about Appalachia closer to your heart than others subjects? Is it important to you to write about your heritage?
I call myself "a nicheless author" because I have written in various genres: for the confession market (yes, I wanted to see if I could do it and did), poetry (not much), college textbooks, woman's fiction (Journey to Stenness), short stories, and historical fiction. Sarranda tells the story of a woman (and most women) born in time to marry and endure the hardships that the Civil War brought to the mountains. Writing with an Appalachian flavor is my strong point, I think, but I've sort of resisted "being typed" as Appalachian, which I certainly am—and now proud of it.
(to purchase book or for more information visit celiamiles.com)
You've been involved with several anthologies here in Western NC. Has the writing scene changed since you first become involved with it?
The three anthologies I've co-edited with Nancy Dillingham of women writers from western NC—Christmas Presence in 2008, Clothes Lines (2009) and one this spring: Women's Spaces Women's Place, have given me a tremendous appreciation for the work of women writers in the region. Certainly in the past ten-fifteen years, our area is turning out high quality fiction and a great deal of it. This area is now the "producing place," I think, for American fiction: think Charles Frazier, Ron Rash, Fred Chappell…Kathryn Magendie, Joan Medlicott, Heather Newton, Sara Gruen, Elizabeth Kosova, Ann Ross. The variety is infinite. Now there are magazines that promote high quality writing by women and men. Western North Carolina Woman was among the first; Fresh is a more recent literary magazine. In the last decade, more outlets have opened up and writers are producing—in print and online, for standard and self publishing venues.
Where can folks find your books and find out more about you?
My books and the anthologies are in the independent bookstores around Western NC; they haven't found their way into the big chains and that's okay with me. I hope readers patronize stores like City Lights in Sylva, the Curiosity Shop in Murphy and Andrews, Blue Ridge Books in Waynesville, Highland Books in Brevard, Accent on Books and Malaprops in Asheville—and gift shops such as Mountain Made in Asheville's Grove Arcade and Pisgah Inn on the Parkway. These and many others are the places to find good regional writing. I have a website: www.celiamiles.com and books can be ordered from me: 104 Clubwood Court Asheville, NC 28803.
Is there anything else you'd like to share with the Blind Pig readers?
I encourage any writer to write and then, if getting an agent, finding a big name publisher is too difficult or distracting, to consider self-publishing. I chose to stop writing query letters and stop thinking "if not New York, not at all," and go the self-publishing route and I have not regretted it. It is now quite "acceptable," and is satisfying and gratifying.
Can you sum up what Appalachia means to you?
To me, Appalachia is quite simply "home." I don't want to live anywhere else…well, maybe the Scottish islands!
Appalachia has become both a geographical reality with real people and a contrived (by earlier local color writers who created a land populated by people in dire need of salvation and modernizing) literary/mythical arena.
Appalachia is a term fraught with contradictions: outsiders tend to think "quaint" (dulcimer music and old ballads) or "low-down sorry" (moonshine, feuding, ignorance)—and those born here know the region is neither one nor the other. Now, thankfully, writers are knocking down the ridiculous stereotypes and showing the reality of a culture coming to grips with a necessary blending of "us" and "them," then and now, truth and fantasy. It's a good place to be.
———————-
I hoped you enjoyed the interview I did with Celia-and if you missed her guest post here on the Blind Pig last December-you should for sure go read it-one of the best Christmas stories I've ever read.
Tipper