Today's entry in The Week of the Fish was written by Patti Tappel.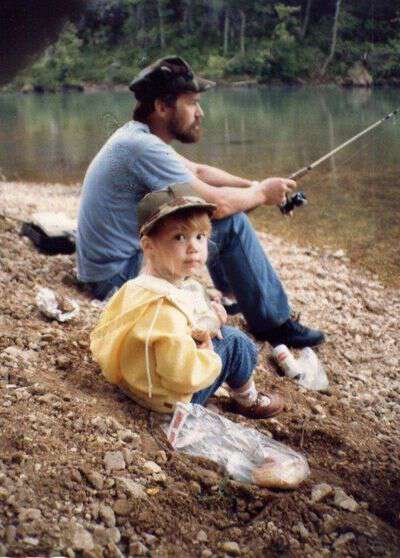 My husband, the blacksmith, and daughter Sarah fishing on the Current river in southern Missouri about 1986
Fishing has always been a part of our family. The husband and I have fished for crappie for years. The times you hit a hot spot makes for some great fun. At least for me, as I won't bait a hook, or take a fish off. He's a trooper and does my dirty work.
Hubby loves to gig fish. Being a blacksmith he makes some awesome fish gigs. It is quite a process to gig. First it's done at night, which means you need some powerful lighting. They use propane lights with about 8 mantles. It's usually bone chilling weather.
Another sport he enjoys is snagging. This is done with big rod and reel, similar to those used in deep sea fishing. You actually use a treble hook and leave it unbaited. You cast, and then reel it back in, letting the hook run near the bottom of the river. The fish to snag is a spoonbill, a rather mean looking fish.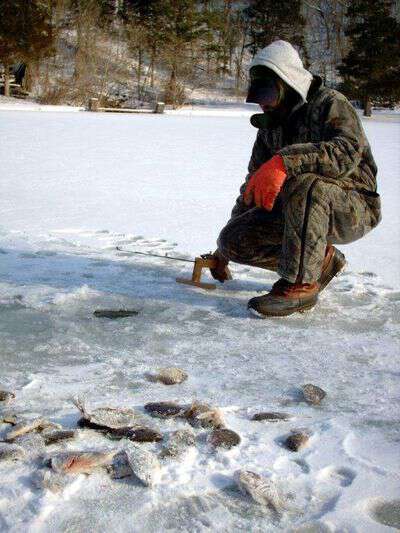 Come winter, if the lake is frozen over he will ice fish. The catch is usually perch or crappie. After catching the fish you throw them on the ice. When it comes time to clean, you usually have to let them thaw out in the basement. This is the best tasting fish there is!
Bow fishing is another sport he enjoys. They go for buffalo and carp. This is the fish we can. It makes some great fish patties.
We have always taken our kids fishing. One of my favorite pictures is the one at the top of the post, of my daughter sitting on the river bank watching her Daddy fish.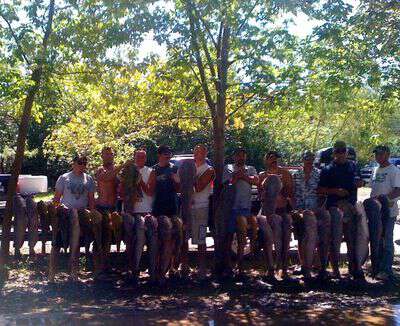 Jeremy our son is now 35 and loves to gig, snag, or hook any fish. He always goes on a big catfishing trip to the Mississippi River, south of St Louis, every Memorial Day. The photo above was last years catch. Total live weight for 3 nights was 2153 pounds. Biggest fish- a 70 pound bluecat.
Fish is a big part of our diet, whether it's fried, canned, or even smoked.
————————–
Hope you enjoyed seeing how Patti's family fishes as much as I did. Patti blogs at the Osage Bluff Quilter site-be sure to visit her.
Tipper