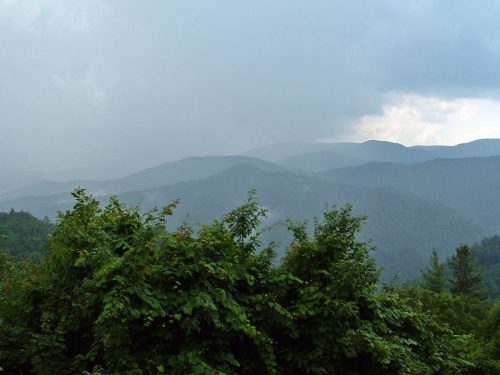 Thunderstorms are part and parcel of summer in Western North Carolina. The storms bubble up from over in Tennessee and meander their way over the mountains into North Carolina opting to leave some folks dry and totally drench the people living just down the road.
The storms are typically short-lived, even the ones that arrive with a great fury of wind and rain. As the storm heads on down the way the ground steams from the heat of the day and the water left behind in the deluge.
I remember being over in Pine Log when I was about 12. I was swimming at Buck Reece's pond along with my friend and her family. It was a creepy pond with a tree still standing right in the middle of the water. There was a swing that reached out over the deepest depths, but I was way too afraid to swing on it. All the others had great fun seeing how far they could go before dropping into the murky coolness.
Before we knew it, it blew up a cloud and we were running for shelter.
We had walked down the dusty gravel road to reach the pond and were at least a mile away from home. Thankfully there was an old shed nearby. We took shelter in it, wrapping our wet towels tightly around us as the rain beat on the roof and the wind howled. It seemed like the storm lasted forever. My friend's younger brother dozed on his mother's shoulder as we all wished it would end.
I'm positive I was the only one scared of the lightning and thunder, but we were all glad when the storm abated and bright hot sunshine came from behind the clouds to dry our suits and hair as we walked back up the road towards the Coleman Gap and home.
Tipper
Subscribe for FREE and get a daily dose of Appalachia in your inbox