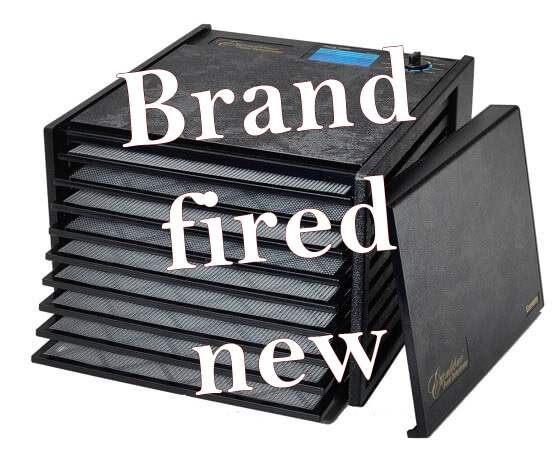 brand fire new, bran fire new adjective phrase
Completely new, freshly made. Same as fire new.
1834 Crockett Narrative 145 I therefore gave up all I had, and took a bran fire new start. 1942 Hall Phonetics 91 brand-fired new c1945 Haun Hawk's Done 349 So Belle, she twisted herself up to the piano like she thought she was something specially screwed together, all dyked out in a brand fired new dress—blue silk—bought for the showoff. And it did show off her hind end. 1995-97 Montgomery Coll. (Cardwell, Jones, Ledford, Shields).
Dictionary of Smoky Mountain English
---
I got a brand fired new dehydrator this summer and I'm loving it!
The first dehydrator I had come from Miss Cindy. I used it for years, I believe she picked it up at a yardsale or maybe a thrift store. It was one of those round ones with trays stacked one on top of the other.
The next dehydrator I had come from Miss Cindy too. She found it at the dump store. Does your dump have a little store where people can put things that are still useful for other folks to pick up if they need it? Ours does.
The dump dehydrator was also a round one with stacked trays, but it was newer and nicer. I've used it for the last few years.
It was going along fine this summer until it just quit. I think I overwhelmed it with all those tomatoes. The Deer Hunter took it apart and got it to work again, but the fix only lasted a couple of hours and then it quit again.
So I splurged and bought a brand fired new dehydrator. It has trays that slide out and it holds a whole heck of a lot more food. It's been running pretty much non-stop since I got it and I just love it.
Don't you wish you could have seen Belle's dress 🙂
Tipper
Subscribe for FREE and get a daily dose of Appalachia in your inbox