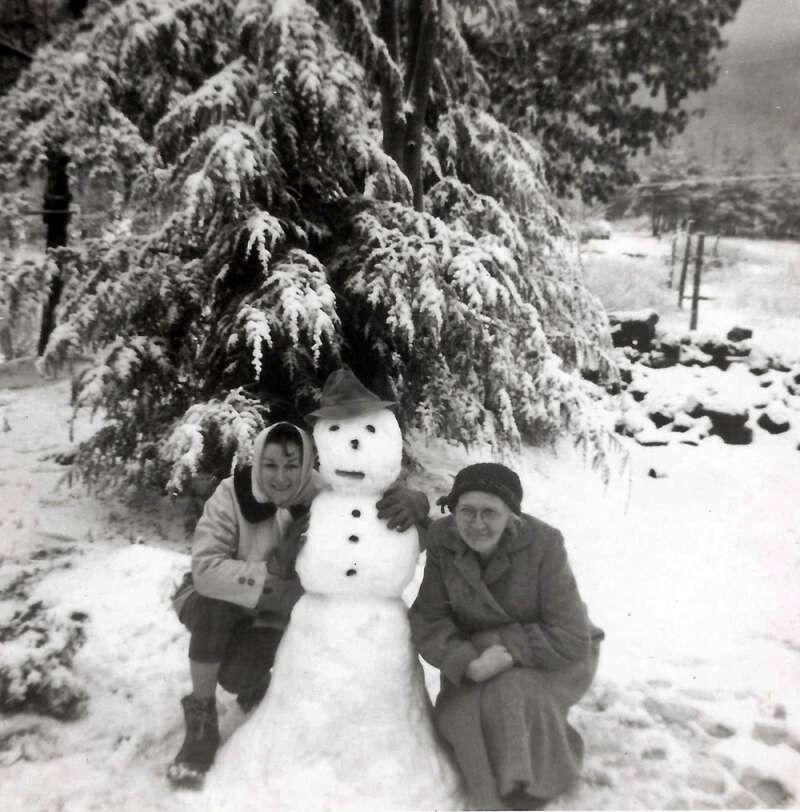 Granny with her mother Gazzie 1963 – Ranger NC
We have always wished everyone Christmas Eve Gift and Christmas Gift…my family and my husband's both used this wish. My mother and my mother-in-law both said it came down through their families. Their parents and grandparents used this term. Back in the 1800's and early 1900's people did not have money for presents…kids might get a piece of penny candy or a piece of fruit, but not much else. Families and friends would travel to a neighbors house for a holiday meal, and upon greeting the visitors they would say 'Christmas Gift'. The visitor was the gift!  And of course the visit…it was being happy to spend time with each other and share a holiday. My mother was born in 1930, and her parents in the late 1800's. Mom remembered Christmas with no gifts, just family and maybe something sweet to eat. One year, her dad exchanged his boots to a man for 2 little dolls…one for my mom and one for her baby sister. Hard times back then.
~Susan Kauffman
——————
When I was growing up the very first thing Granny did on Christmas morning was call her sisters and say "Christmas Gift" loudly into the phone. Some years one of her sisters would beat her to the punch and call her first.
Once our gifts were opened on Christmas morning we went to Granny's mother, Gazzie's house to eat Christmas Dinner. Throughout the evening a stream of people would drop by to visit. One bunch would say their goodbyes and then before you knew it they were replaced with the next bunch coming in the front door. It seemed every time the door opened to a new face someone would shout "Christmas Gift."
I never gave the little game Granny and her family played much thought when I was growing up. It was only after I started the Blind Pig and The Acorn that I learned the ritual was wide spread throughout the mountains of Appalachia.
Tipper