The White Stag written by Estelle Rice
Pap was the best shot
in Cherokee County.
Kept his gun
spit and polished
on a rack
by the door.
Fed his folks
better'n anyone.
Never killed a creature
they couldn't eat.
Said deer, bear,
and squirrel
were God's gifts
to his hungry children.
Pap got old,
forgot many things
walked with a limp
saw more shadows
than light. But he swore
he was still the best hunter
within a hundred miles.
Early one morning
'for his old wife
woke, Pap eased
out of bed,
dressed and took
his gun off the wall.
He trudged up the hill
'spite the pain
gripping his chest.
He sat a spell
'neath the oak tree
and waited.
'Fore long he heard
crunching leaves.
Pap's eyes cleared
better'n ever.
Then he saw
the white stag.
Blood dripping from wounds
on its side.
The stag and Pap
looked each other
straight in the eye
not as hunter
and prey
but as friends.
The stag pawed the earth.
Pap now free of pain
smiled
and put his gun
on the ground.
———————
I hope you enjoyed Estelle's poem as much as I do. It reminds me of my Papaw putting on a big trench coat he got from somewhere telling his grandsons he'd show them how to out smart the wild turkeys-but he didn't. It also reminds me of James Evans-he's the gentleman on the right in the photo at the top of this post.
The boy on the left is one of James' sons and The Deer Hunter's best friend-Eric. Although they don't get to hang out together these days-as boys they were always together. They could usually be found in the woods hunting, fishing, and camping. Those were the things that made them happy. Each boy was taught a great love of the outdoors by their father.
About 20 years ago, James-like Pap in the poem-went into the woods. And like Pap in the poem his ticker gave out on him. He wasn't hunting game that day-it was ginseng. But I still remember his family saying that's how he would have wanted to go-hunting in the woods with his family.
I remember the honor and heartache of the ones who carried him out. I embrace and appreciate the memories Eric and The Deer Hunter have of times spent in the woods together; of times spent in the woods with each of their fathers; of the bond of hunting that continues today even though they live many miles apart.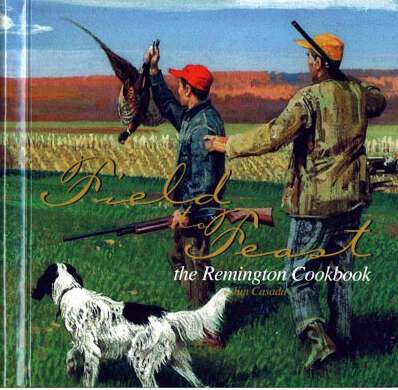 Today's giveaway has been generously donated by Jim Casada: Field to Feast the Remington Cookbook by Jim and Ann Casada. They drew on their years of hunting, cooking, and writing experiences while writing the book.
Be sure to jump over to Jim's website and look around-you can check out his other books while you're there-any of which would make an excellent Christmas gift. When you visit-don't forget to sign up for his free monthly newsletter and be on the lookout for more giveaways of Jim's books right here on the Blind Pig. Leave a comment on this post to be entered in the giveaway-which ends Sunday December 7, 2014.
Tipper