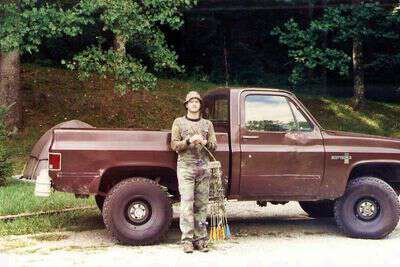 jump verb In hunting: to cause (an animal) to start; to flush, start, or attack (game).
1937 Hall Coll. Cades Cove TN Them dogs was good ones to jump bear. (Dave Sparks) 1939 Hall Coll. Proctor NC The dogs, they just stove off the road into a little laurel patch, and there they jumped another big one. (Dan Cable) ibid. Catalocchee NC They jumped the bear and the bear come to the stands. I give him two good shots. (Will Palmer) 1966 DARE = when a hunter or a dog finds a game animal and makes it start running (Cherokee NC). 1972 Hall Sayings 92 A dog jumped a bear, and the bear went right over Uncle Proctor. Uncle Dan said, "Uncle Proctor would never be any whiter when he was laid out than he was then."
~Dictionary of Smoky Mountain English
2014 Brasstown, NC As I was crossing the creek I jumped two deer out of the laurel thicket on the other side.
Using the word jump in the manner it was used in the Dictionary of Smoky Mountain English is still alive and well in my neck of the woods today.
—–
I have another book to giveaway today.
Passion of the Wild
written by
Michael O. Giles
. The book if full of inspirational outdoor stories. To be entered in the giveaway all you need to do is leave a comment on this post. Giveaway ends Saturday December 6, 2014. Michael is having a giveaway of his own. Click
here
to jump over to his website and read the details.
Tipper