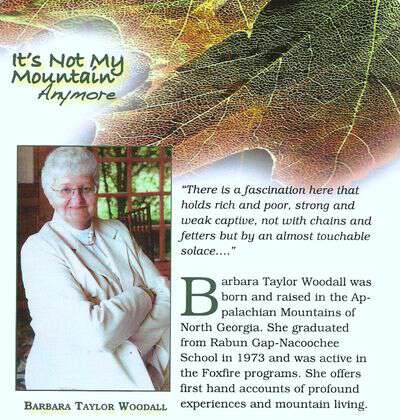 It was several months ago that I first heard of Barbara Taylor Woodall's book It's Not My Mountain Anymore. Barbara was born and raised just down the road and over the mountain from here in Rabun County GA. She's spent a large part of her life working with the folks at Foxfire.
Barbara generously gave me a copy of It's Not My Mountain Anymore to read-and from page one I was fascinated. As I read-I frequently laughed till I cried-then in other parts I cried because she truly touched my heart. I was constantly reading her stories out loud to The Deer Hunter and the girls-just so they could laugh too.
My favorite parts of the book are the beginning and the end. During the middle portion, Barbara tells about her years at Foxfire and her life in general-very interesting stuff-but it was the stories of her childhood days and family members that reached out and grabbed a hold of me.
Instead of doing my usual interview and book giveaway-I'm going to share a few of my favorite excerpts from the book over the coming days. Afterwards, there will be an interview, a guest post, and a book giveaway so be sure to stick around till then!
One of my favorite quotes from It's Not My Mountain Anymore written by Barbara Taylor Woodall:
"Work is a four letter word: so are food and love."
Deep uh?
Tipper
p.s. If you can't wait to read the book yourself-click on any of the links above (title of book in orange or Barbara's name in orange) to jump over and buy your own copy!