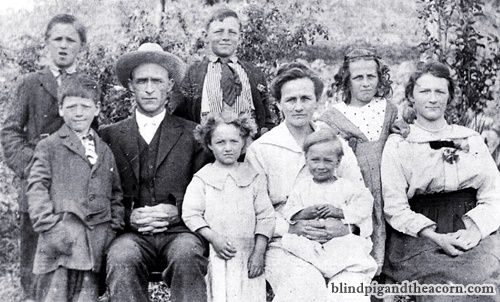 Back from left: Harrison, Henry, Gertrude; Front from left: Hardy, Thomas, Pearl, Amanda, Byers, Gazzie
Granny was a little girl when her Grandmother Amanda died. She said Amanda was a sweet kind old lady that everybody loved. I asked her what she died from and Granny said "She was just worn out. Having all those kids and having to raise them up just did her in."
Granny's mother Gazzie was the oldest of Thomas and Amanda's children. Granny said Gazzie promised her mother when she died she'd take care of Thomas for the rest of his life and she did.
Once Amanda passed away, Gazzie and her whole family moved in with Thomas.
I thought maybe Thomas was sickly, but Granny said no he was in good health when they moved in. She went on to say "Grandpa went all over the country preaching. Preachers didn't retire back then they just kept going till they couldn't go no more."
Eventually Thomas did become frail. Granny said he ate oatmeal three times a day because he had trouble eating anything else. Granny still has a few of the small dishes that came in his oatmeal containers.
I wondered aloud at the task Gazzie took on by moving in with her father, after all she had nine children of her own to take care of.
Granny said "Why Mama was so tough she could do anything. She helped Grandma with all her babies until the last one. She would have helped with that one, which was Kate, but she had Fay on the same day. Can you believe that—mother and daughter giving birth on the same day."
Thomas died in 1965 the same year Pap and Granny had their first child, my older brother Steve.
Tipper
*The Reverend Thomas W. and Amanda Hyde Truett Family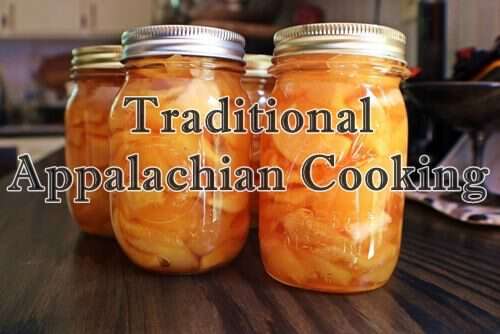 Come cook with me!
MOUNTAIN FLAVORS – TRADITIONAL APPALACHIAN COOKING
Location: John C. Campbell Folk School – Brasstown, NC
Date: Sunday, June 23 – Saturday, June 29, 2019
Instructors: Carolyn Anderson, Tipper Pressley
Experience the traditional Appalachian method of cooking, putting up, and preserving the bounty from nature's garden. Receive hands-on training to make and process a variety of jellies, jams, and pickles for winter eating. You'll also learn the importance of dessert in Appalachian culture and discover how to easily make the fanciest of traditional cakes. Completing this week of cultural foods, a day of bread making will produce biscuits and cornbread. All levels welcome.
Along with all that goodness Carolyn and I have planned a couple of field trips to allow students to see how local folks produce food for their families. The Folk School offers scholarships you can go here to find out more about them. For the rest of the class details go here.
Subscribe for FREE and get a daily dose of Appalachia in your inbox