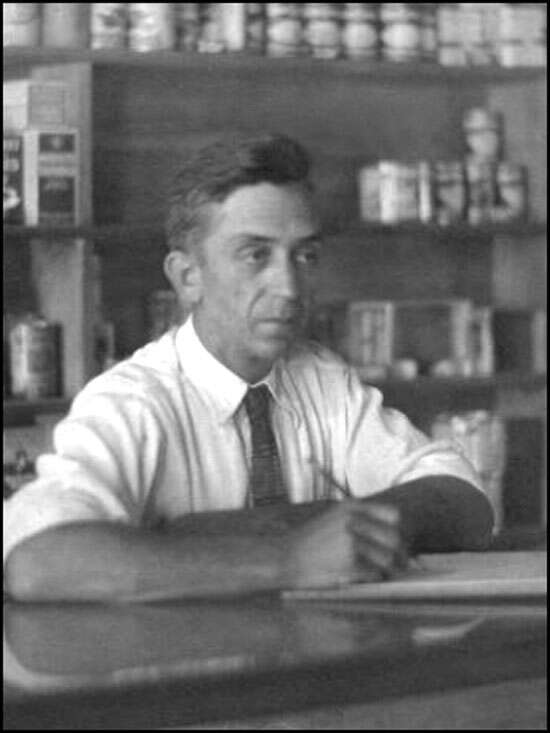 Fred O. Scroggs-photo provided by the John C. Campbell Folk School
From the JCCFS Archives – Fred O. Scroggs
J. Mack Whitaker
(Talk with J. Mack Whitaker, June 24, 1928.)
J. Mack Whitaker was born and raised on a farm near Andrews, N.C. Now 82 years old. Entered the Confederate Army at the age of 16, under his father, Stephen Whitaker. His father raised a Company on Valley River. Was made Captain of the Company. Later made Major. Surrendered to Col. Kirk at Franklin. The last in N.C. to surrender.
Stephen Whitaker came to Cherokee County from Buncombe County in 1838. Bought 160 acres of land at the Indian Land Sale. At his death he owned 22,000 acres. He was married in 1836.
James Whitaker, Grandfather of J. Mack Whitaker, was first Post Master in Buncombe County at Swannanoa. J. Mack has the original commission among his papers, dated 1818. James W. was first post master in Cherokee County, at Jamesville, later Valley town. It was named after Jas. Whitaker. It stood near where the Rev. Clay Whitaker now lives. Rossville Post Office was established later. It was above the present site of Marble, N. C., between two branches. It was established before Jamesville was changed to Valleytown. Valley Town was later changed to Andrews.
J. Mack W. says, Fort Delaney stood on his grandfather's land, not far from where he, (J. Mack) now lives. Some of the logs are still there, in some other buildings. It was built about the same time as Fort Butlar at Murphy, Fort Hembree at Hayesville, Fort Montgomery at Robbinsville, and Fort Lindsey near Franklin.
"The forts were built out of logs with loop holes made so that guns could be ranged right and left. Large logs, with the ends sharpened were set up around the forts as a barricade."
"Remember attending Commencement exercises, (then called Expositions), at the John O. Hicks school at Hayesville." Visited his school one time while he was having a class in Astronomy. There were 19 boys and girls in the class. Hicks asked the question, "Who inhabits eternal space?" No one answered until he came to the last one in the class,-a girl. She answered, "The Deity."
"Chief Junaluska lived just over the hill, South from here, (his present home) and across the creek, now called Junaluska Creek. He had an apple tree in his yard that we call the Junaluska Apple. I used to have one but it died. Fannie Walker has one now. She was the wife of Ruff Walker. Junaluska had two wives. He went west. Come back later and died about 1858. He fought with Andrew Jackson at the Battle of Horse Shoe Bend. He was camped with his Indians in the bend of the river. At night, Junaluska swam the river and turned all the enemy's canoes loose. Next day the enemy could not charge them. Junaluska done that. The state gave him 300 acres of land where Robbinsville now stands. He is buried on the same land. I hear the Daughters of the Confederacy have erected a monument to him. I have never seen it."
J. Mack Whitaker, Page two.
Uncle J. Mack Whitaker, now has (June 24, 1928) hundreds and hundreds of papers that he has saven over a long period of years. Among them, the following:
Map of North Carolina printed under an Act of Congress in 1843. This map gives Fort Lindsey above Franklin, and Fort Montgomery at Robbinsville. This map does not give Clay and Graham Counties, as they were then part of Cherokee.
A map of the Town of Andrews, printed in 1890.
A commission from David Stone, 1807, appointing James Whitaker a Justice of the Peace.
A copy of the North Carolina Citizen, published Jan. 4, 1872.
A copy of the Atlanta Constitiution 1835.
A copy of the Southern Star, Atlanta Ga., 1888.
The Cherokee Herald, Murphy, N.C. 1875.
The Independent, Murphy, N.C. 1883.
The Murphy Bulletin, Murphy, N.C. 1885.
The Cherokee Advance, Murphy, N.C. 1891. Perry, Editor.
The Murphy Advance, Murphy, N.C. 1888.
Hundreds of other papers, commissions, etc.
Several thousand dollars in Confederate Currency, State Money, etc. Hundreds of old stamps, both used and un-used. Letters from numerous parties. Many of these old letters have no stamps on them. The fee is marked paid by the Post Master at the office of origin. Some of them from Raleigh are marked "Free." Among his numerous letters is one address to Chief Junaluska at Jamesville, N.C. Most of these letters are not in an envelope. They were folded and sealed with sealing wax, with the address on the back.
Says there are some small Indian Mounds on the Morris Farm, below Andrews. Said he saw part of the large mound at Andrews opened. Nothing found. Said neighboring tribes helped build the mounds. That they brought dirt in baskets for many miles to go in the building of the mound.
Told where an Indian Blast furnace used to be, near the Maltby Talc Mine. Indians called it the Turkey Foot, from the shape of three hills jutting out like a Turkey Foot.
Told where Indians cut out stone pottery on the old Tillman Bryson place at Young Harris, Ga.
———————-
I hope you enjoyed Fred O's talk with J. Mack Whitaker as much as I did! I'm so thankful Fred O had the forethought to talk to to folks and to write down what they told him. And I so hope all those papers J. Mack Whitaker had ended up in a museum or archive.
Tipper