The recent talk of spring cheepers and peepers here on the Blind Pig and the acorn reminded me of the post below, which was published here on the Blind Pig in March of 2013.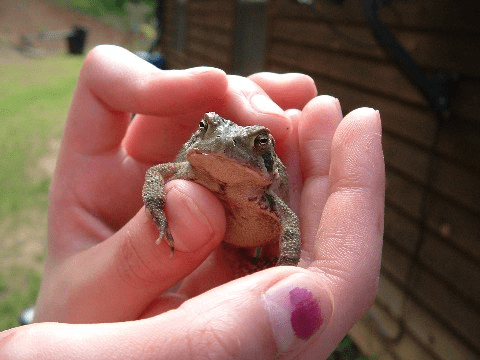 A toad frog that lived under our back deck one summer.
Excerpt from Dictionary of Smoky Mountain English:
Spring cheeper, spring peeper noun 1967 DARE spring cheeper = small frog that sings or chirps loudly in spring (Maryville, TN). 1984 Wilder You All Spoken 59 spring peeper = These noisy frogs erupting from the mud of hibernation are pinklewinks on Martha's Vineyard and pinkwinks on Cape Cod. Most everywhere they are voices of Spring.
I first heard spring peepers a week or so ago as the girls and I were coming through Warne, NC headed for home. They put out an amazing sound. Driving down the road is when I notice them the most in early spring. It's only for a few short seconds as you pass by their home-but they fill the car with their sweet voices which sing of spring.
I had big plans to walk down the road to the first culvert and tape some peepers-so you could hear them too. But old man winter has decided to interrupt spring here in southern Appalachia and there's no spring peepers to be heard. They've burrowed back down until spring returns.
I did find the sound on youtube-click here to go hear them for yourself.
Have you heard spring peepers at your place yet this year?
Tipper
*Source Dictionary of Smoky Mountain English.