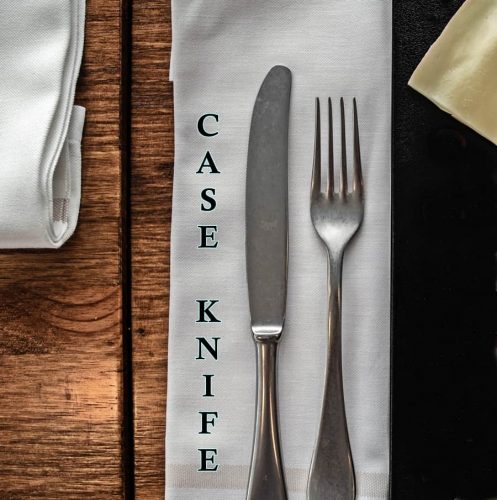 Ed Ammons left the following comment on last week's Appalachian Vocabulary Test.
"Nowthen there's a Case and there's a case when yer talkin about knives. A case knife is on the table to the right of the dinner plate next to the teaspoon. It's what you use to cut yer food if the side of your fork just can't cut it.
A Case knife will likely be found in yer front pants pocket (right or left depended on yer handedness). A Case (or similar type) knife is an essential part of any Appalachian citizen's wardrobe (yes, ladies are included. In fact, encouraged)!
A case knife has its place too. It makes a decent screwdriver in a pinch. It is good for fishing small items out of sink drains. Other that those none comes to mind but I'm sure there's more. Oh Yeah, if they are strong enough they are excellent substitutes for motorcycle tire irons. Unfortunately most are not. Real silver bends too easy and stainless steel breaks. Oh well I'll keep thinking.
Now the uses for a Case knife;
Skinning a deer,
picking out splinters,
shaving kindling from rich pine to start a fire,
trimming your fingernails,
peeling an apple, peach, potato, plum, pear and/or any other fruit or vegetable,
carving your and your lovers initials into a tree or into your school desk (the latter is not recommended),
playing mumbledy peg,
a slide for your guitar
and of course whittling children's toys. That's only the beginning!
I have before me a Case 6202½, a Boker Tree Brand, a Buck 301, a Barlow Imperial Ireland and a Bear & Sons Little Trapper, all made in the USA (I'm not sure about the Barlow). I also have an assortment of foreign made knives which have their places but none have a place in my heart like the Case, the Buck and the Barlow (the Barlow may have been made in Ireland but Ireland is not foreign to me!)"
—-
Ed's comment reminded me of a video I filmed for a lady I was working with a few years back. It was about the case knife that Ed said laid near the dinner plate.
Tipper
Subscribe for FREE and get a daily dose of Appalachia in your inbox