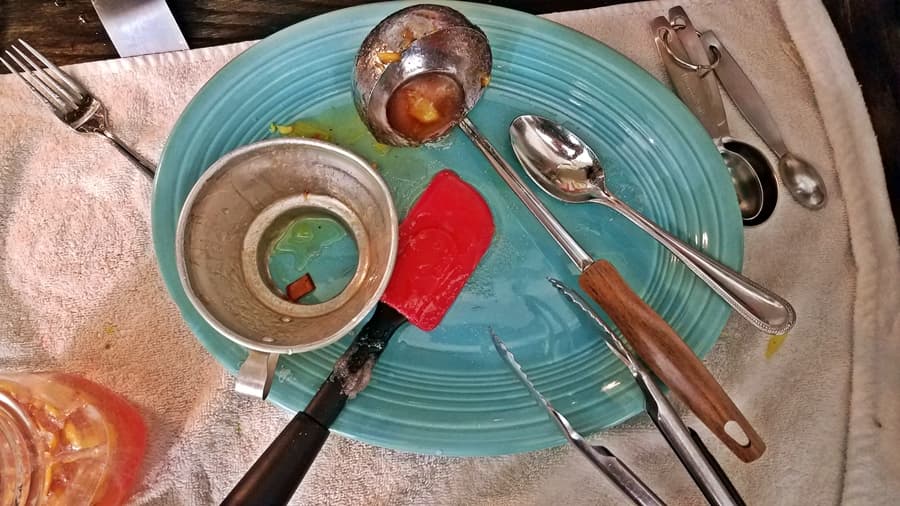 I have a favorite ladle. You can see it in the photo above. On the day I snapped the photo I was making peach jelly and bread and butter pickles so it got quite the workout.
When The Deer Hunter and I got married someone got us a nice set of stainless serving utensils: a spoon, a slotted spoon, and a ladle. I still have them all and use the spoons all the time.
I used to use the ladle too, until my cousin Mary gave me one of her Daddy and Momma's ladles: Uncle Woodrow and Aunt Fay.
I remember I brought it home and put it right on my counter along with other utensils I have sitting in a pitcher so that I could see it often and think of Fay and Woodrow.
The first time I was canning that year my usual ladle was dirty so I grabbed Fay and Woodrow's.
From the first ladle I felt like Goldilocks who'd found the bed that was just right.
The ladle fit in my hand perfectly. It was long enough to reach into the bottom of my largest pot, but short enough to come out of the pot easily. I was pleased as punch when I noticed a little indention on one side of the ladle that lets you pour carefully if you want to.
Ever since that day I've used Aunt Fay and Uncle Woodrow's ladle for canning. It almost makes me feel sorry for my old ladle that just hangs out on the counter.
The other night I dreamed about Uncle Woodrow. It was a crazy dream! He went from looking like Uncle Woodrow to looking like David Grisman with long grey hair. In the silliness of dreams I said "Uncle Woodrow why'd you let your hair grow out so long?" He said "Oh you know I'm just living the life." Just for the record: Uncle Woodrow would have never said that nor would he have ever let his hair grow longer than his ears 🙂
When I awoke the next morning I thought it was weird that I dreamed of Woodrow when he's been gone for so long, but as I canned my peach jelly and bread and butter pickles and studied on the ladle I realized it's no wonder I dreamed about Uncle Woodrow. He's been helping me put up stuff all summer.
Tipper
Subscribe for FREE and get a daily dose of Appalachia in your inbox