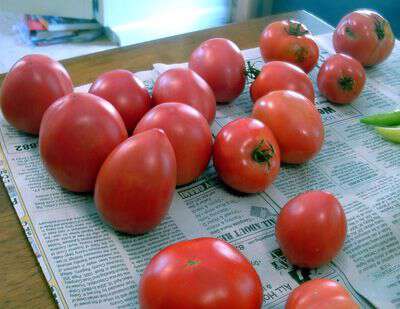 Many of you may remember last summer was the year The Deer Hunter and I decided we'd grow only heirloom tomatoes; pick our favorite varieties; and save the seed to start our own for years to come. You may also remember I did not know heirloom varieties can cross pollinate-and when I found out I got slightly freaked out. If you missed all that-go here: Saving Seeds From Heirloom Tomatoes.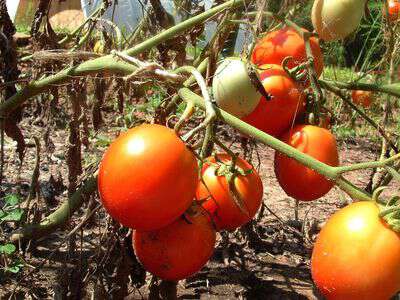 Hamson Tomato
Not knowing if the seeds we saved had been cross pollinated or not-we decided to go forward with our plan and see what happened. We've had good tomato production this summer with the seeds we saved-even though the days have been hotter than usual.
Sticking with our plan-we planted our favorite heirlooms from last summer-with one exception. Hometown Seeds generously sponsored our garden again this year-and as I paged through their catalog I couldn't resist trying the Hamson Tomato.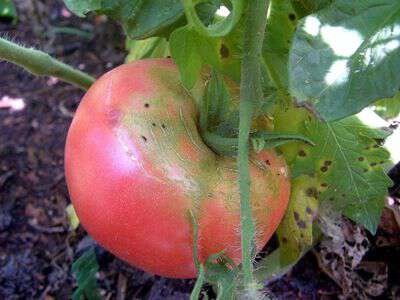 German Johnson
For the 2nd year in a row-German Johnsons are my favorite. They produced good again for us-and the taste is just dandy.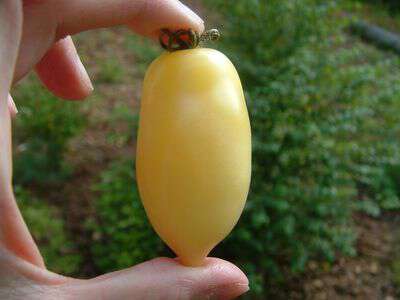 Cream and Sausage
These little jewels were just as tasty as last summer-very sweet-and good producers.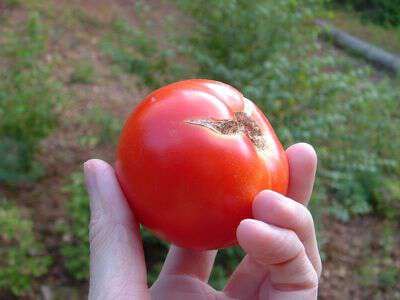 Bonnie Best
Just as tasty-although they didn't seem to produce as many as last summer-maybe it was the heat.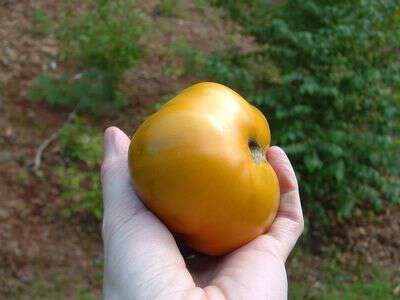 Yellow Brandywine
These are so big, so juicy, and so tasty-one is a meal in itself. The only problem-somehow I only ended up with 3 plants.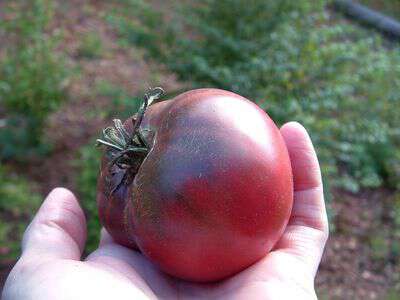 Cherokee Purple
This is where we ran into trouble. Last summer Cherokee Purples were The Deer Hunter's favorite. They didn't produce very many tomatoes-but since it was free to save seeds from them-I did. I planted more Cherokee Purples than anything else-and oh man from the start they looked so healthy-so much stronger than all the other varieties.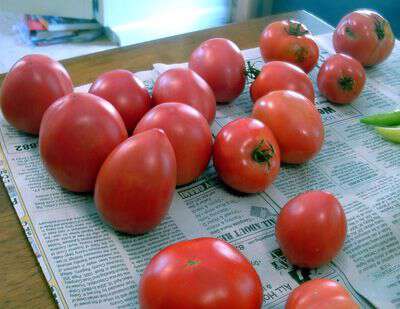 Tipper's Not Very Tasty Oblong Shaped Tomato
When the tomatoes first started coming in, The Deer Hunter was the one going out to pick them. As the first week or so went by-he was judging which tasted the best-which were producing the best, etc. One evening he was slicing one up and said he didn't think it tasted as good as the others. I said well what kind is it? He said he wasn't sure.
Once I seen the shape of it-I knew it wasn't something I planted on purpose. Then I remembered the Hamson seeds. I said oh I bet it's that new one I tried from Hometown Seeds. I never thought anything else about it-until a day or so later we were both in the garden together. As I looked around at all the tomatoes-I noticed all of the Cherokee Purple plants had funny looking tomatoes on them-fairly large-but completely oblong shaped-and a funny color of washed out red. (in the first photo of this post-you can see several of the odd shaped tomatoes)
Out of all the Cherokee Purple plants-only one has produced true to type. So I discovered it's true-different varieties of heirloom tomatoes can cross pollinate-with not so good results.
So do I give up? Never. But I am thinking I should start fresh next year-with all new seeds that were saved by someone who knew what they were doing. And I will for sure give more thought into where I plant each variety.
Have your tomato plants done good this summer?
Tipper