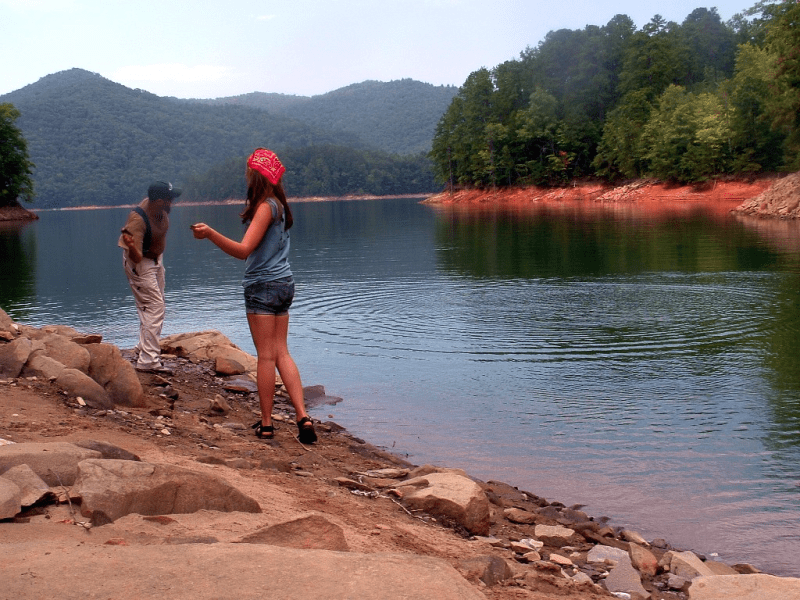 Have you ever skipped a rock across the water? I learned how to skip rocks at an early age. There used to be a pond just below Granny and Pap's house-I learned to swim there too.
Skipping rocks takes me back to being a kid. I feel like it's a solitary thing to do-probably because of two things: 1-Granny forbid us to go to the pond unattended (even though it was barely over our heads and we could swim) so if I was skipping rocks-I was doing it very quietly and trying not to get caught by Granny. 2-If anyone was near by-I was afraid I might accidentally hit them with my skipping rock (the pond wasn't that big).
Apparently if you're left handed-learning to skip rocks is hard to accomplish even if you have an entire lake. Chitter did finally get one to skip-twice.
Do you believe you can buy rocks that are guaranteed to skip or you can get your money back? Maybe I should order some for Chitter. I totally understand if you don't believe me-so go here to see the guaranteed skipping rocks. Makes you wonder in the world who came up with the idea doesn't it?
Tipper
Appalachia Through My Eyes – A series of photographs from my life in Southern Appalachia.