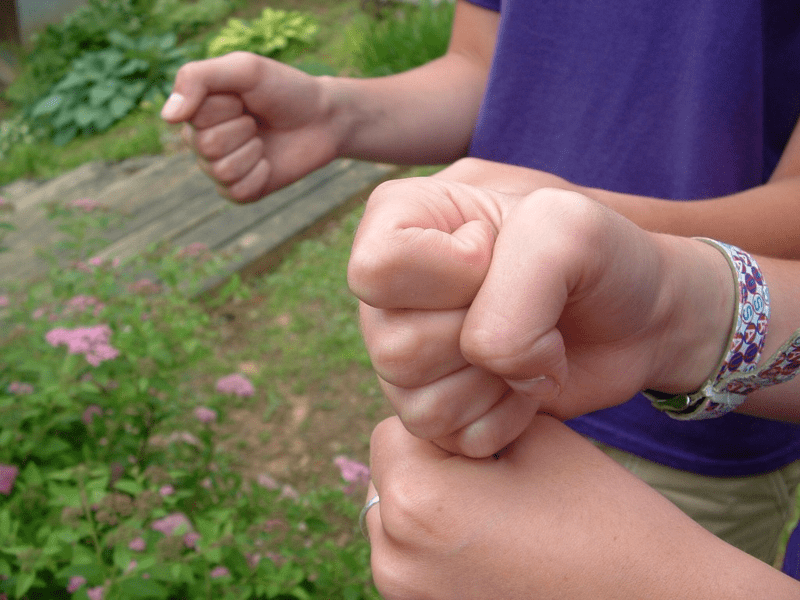 Counting rhymes are often used to figure out who is going to be 'it' in a game-or who's going to get to go first. Most of the rhymes are said as children are standing in a circle or in a line-with a lead person pointing out each person as they say each word. As the rhyme is said each person is eliminated from the game until only one is left to be 'it' first. See if you remember any of the counting rhymes below.
One two three,
Momma caught a flea,
Flea died, Momma cried,
Out goes Y-O-U!
————-
Ennie meenie minie moe
catch a tiger by the toe
if he hollers let him go
ennie meenie minie moe
————-
My momma told me to
pick the very best one
and it was Y-O-U!
————-
One, two star blue;
All out 'cept you.
————-
Wire, briar, lumber lock
Three geese in a flock
One flew east, one flew west
One flew over the cuckoo's nest.
————-
My mama and your mama were hanging out clothes'
My mama hit your mama right on the nose.
Did it hurt? Yes.
Y E S spells yes and out you go.
*Blind Pig reader Sharon Schuster shared this variation: "My mother and your mother were hanging out clothes. My mother punched your mother right in the nose. What color was the blood? P-U-R-P-L-E. Out." Oddly, I never heard the 'did it hurt'? That makes more sense than the color question, but we kids never thought anything about what we were actually saying!
————-
Bee bee bumblebee,
Stung a man upon his knee;
Stung a pig upon his snout.
I declare if you ain't out.
————-
Acker backer
soda cracker
Acker backer
boo
Acker backer
soda cracker
Out goes you!
————-
Engine, engine number 9
going down Chicago line
if the train goes off the track
do you want your money back
Yes, no, maybe so.
Y-E-S spells yes and you are not it.
————-
Bubble gum, bubble gum in a dish
how many pieces do you wish?
1-2-3 and you are not it.
————-
William Trembletoe
is a good fisherman.
He catches hens
puts them in a pen.
Some lay eggs
some none.
Wire briar limberlock;
three geese in a flock.
One flew east, one flew west
one flew over the cuckoos nest.
There I met my father.
He had rings, many pretty things.
Be gone you dirty dish dog!
O U T
OUT!
————-
Drawing straws was also used to decide who went first. Seems like when I was little we always accused whoever was holding the straws of cheating so we didn't use that method much.
Flipping a coin to decide something is still common today-but have you ever heard of flipping a rock? I read something-that detailed two boys flipping a rock to decide who went first. They wet one side of the rock-then called out either wet or dry as the rock was flipped in the air.
Blind Pig reader Jackie said shared a method of determining which team got to bat first: "We had one to determine which team got to bat first. We took turns with hand over hand on a bat until no one could get another hold. Then the boy out would attempt to kick the bat out of the other's hand. If he succeeded his team got to bat – if he failed his team went to the field."
What counting out rhymes do you remember?
Tipper
Portions of this post were originally published here on the Blind Pig in May of 2013.
*Source: The Frank C. Brown Collection Of North Carolina Folklore