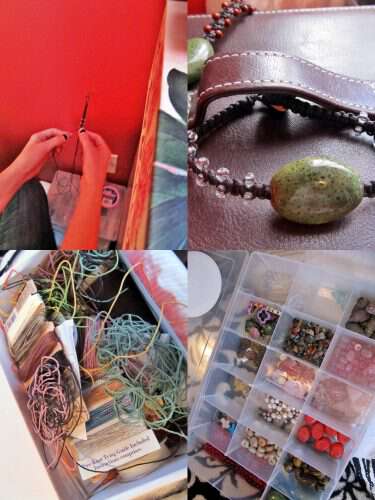 A few weeks ago I told you I had re-opened the Blind Pig & The Acorn Etsy Shop and explained a few reasons why I re-opened the shop. One thing I failed to mention was the role Chitter played in my re-opening the shop.
Chitter's jewelry making skills have been growing by leaps and bounds over the last year or so. If you've been reading the Blind Pig for a long time you may remember the spoon rings Chitter made a few years ago. Since then she's been picking up skills and techniques to add to her arsenal. She's even opened her own Etsy shop: Stamey Creek Creations in an effort to put her creations out there for the world to see-and hopefully buy.
Today I'd like to share a short interview I did with Chitter about her jewelry and her new Etsy shop.
How did you become interested in making jewelry?
About 10 years ago, my cousin showed me how to make little dainty bracelets made from embroidery floss. I decided I wanted make them on my own and add my own style to them. Once I started making the bracelets, I realized if I could do that-I could do something much more advanced.
I started picking up supplies at yardsales, walmart, and where ever I saw them. Then I started adding embellishments to the embroidery floss or using two colors of threads at once instead of one. I also used youtube to learn some new knotting techniques like how to make a candy-stripe pattern.
Didn't you learn a lot at the John C. Campbell Folk School's Little Middle Program?
Yes, I was much older then and understood a lot more about how it all worked. I learned how to do basic wire wrapping to make earrings and how to make jewelry from sheet metal such as copper and brass. I also learned the value of using recycled materials.
How did you learn more intricate types of weaving for your bracelets?
A member of my clogging team taught me a basic knot of macrame and let me borrow a book she had. I learned a lot from that book-I gave it back and got a copy for myself to keep. Then I moved on to using macrame thread for most of my projects.
Did other people help you?
Yes. Every festival I went to I asked questions and the artists were always willing to give me tips and advice. Recently a work study student at the folk school, Cara, has taken me under her wing and has shown me the art of bead weaving. Along the way different people helped point out the types of hand tools I needed-that made a tremendous difference.
So how does all the different techniques you've learned over the last 10 years work together?
I use all the techniques, for example sometimes I do something as simple as bead stringing-making a necklace or bracelet in that manner other times I combine the techniques like using macrame and beading together. The thought process is similar for all the techniques. Something always has a beginning and something always has an end-yes what's in the middle matters but you've got to get the start and the end to complete a project.
What is the most rewarding part of creating your jewelry?
Putting my own creative twist on something. I love to make up my own pattern or my own technique on the fly and have it work out in the end-that gives me an awesome feeling.
You recently started crocheting-do you like it as much as jewelry making?
Almost as much-because like jewelry making-once you know the basic technique you can make anything you want. But I've got a lot to learn in the crochet world-lucky I've got Granny to help me.
What are some of the items you have in your shop?
Earrings, bracelets, and necklaces.
Are you going to put some crochet items in it?
Yes I will eventually.
What do you think about being an Appalachian Artist? What does that mean to you?
It means that I'm keeping the tradition of being creative alive-and I like that. I like keeping the tradition of making stuff by hand alive. For me personally I have to have some way to express my creativeness or I would be a lunatic.
——————
I hope you enjoyed my interview with Chitter. Her excitement for her creations inspired me to think about re-opening my own Etsy shop.
Jump over to Chitter's Etsy Store Stamey Creek Creations and look around-I know Chitter would appreciate it. And be on the lookout more interviews with Appalachian Artists right here on the Blind Pig.
Tipper