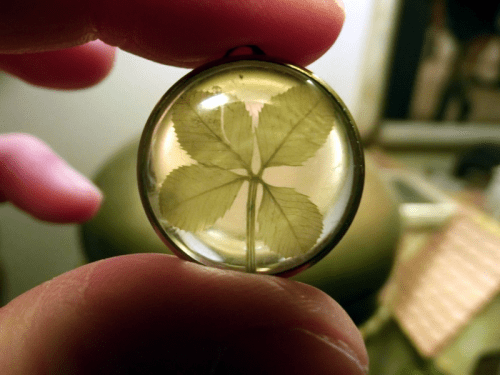 "I started collecting four-leaf clovers about 1930 when I found the first one. I started up here the other day to get the paper, and I found two. I found them weeding my garden. They're not too hard for me to find. Just seems like four-leaf clovers grow where I can find them. I went over there to the other side of the house in the field one evening to see if I could find me a clover and, honey, I found ninety-three in just a few minutes, just as fast as I could pick them.
I like to get out and walk. I'd prefer walking and going to the mountains. I've been studying strong of goin' back up there on the mountain to Face Rock again; I haven't been up there in years. I really like the mountains myself. And the further back in the mountains I can get to live, the better I like it.
Honey, I like to walk yet. I take a notion to walk every once in a while. I have a brother that lives up on Bear Wallow Road beside the Gerton Post Office. I take out up through the pasture, go over and see him. But it was about '43, one Monday afternoon, honey, I kinda wished I'd stayed at home. Just a short distance below the head of the road, down in Mr McClure's pasture, honey, I took me a stick and made a fox club. I've never been so scared in all my born days. What made it really worse; I think, than it would've been, I had my baby with me. He was about two and a half years old and I had him on my back, and he thought it was my brother-in-law's cat. He said "Mamas, there's a cat following us." And I didn't pay any attention to it. He said again. "This cat's a-followin' us." I slid him down off my back and I looked around and, honey, it was that fox still a comin' toward me. And I grabbed me a stick. It come on down to where I was, rubbed in agin' me, and looked up at me and growled and started walking' off, and I hit it right between the ears, and, honey, I permed it a-flat; killed it and took it on down to my brother's.
Ruth Settles—"Mountain Voices" by Warren Moore
—-
My sister-n-law is like Ms. Settles. She can find a four-leaf clover just standing talking in the yard. I can't recall ever finding one myself.
Tipper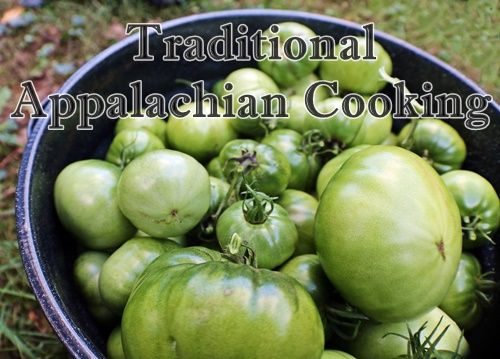 Come cook with me!
MOUNTAIN FLAVORS – TRADITIONAL APPALACHIAN COOKING
Location: John C. Campbell Folk School – Brasstown, NC
Date: Sunday, June 23 – Saturday, June 29, 2019
Instructors: Carolyn Anderson, Tipper Pressley
Experience the traditional Appalachian method of cooking, putting up, and preserving the bounty from nature's garden. Receive hands-on training to make and process a variety of jellies, jams, and pickles for winter eating. You'll also learn the importance of dessert in Appalachian culture and discover how to easily make the fanciest of traditional cakes. Completing this week of cultural foods, a day of bread making will produce biscuits and cornbread. All levels welcome.
Along with all that goodness Carolyn and I have planned a couple of field trips to allow students to see how local folks produce food for their families. The Folk School offers scholarships you can go here to find out more about them. For the rest of the class details go here.
Subscribe for FREE and get a daily dose of Appalachia in your inbox