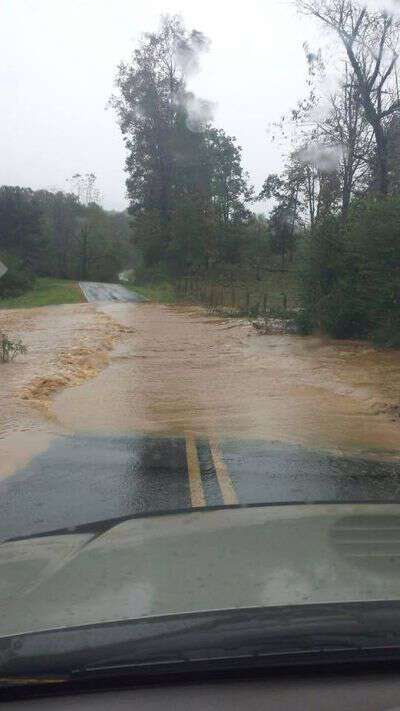 Weather Underground report for Brasstown @ 7:25 p.m. October 14, 2014 – 2.96 in of rainfall.
The Deer Hunter leaves for work before the rest of us even get up. It was raining the proverbial cats and dogs when my alarm went off at 5:30 a.m. yesterday morning.
A good hour later it was still pouring the rain in Brasstown. The Deer Hunter called to tell me the wind was blowing and there was standing water all over the roads along with most of the leaves the trees has shed overnight. His orders were clear-the girls were to stay home…period. My directions-be careful, watchout for fallen limbs, and drive slow.
Chatter and Chitter weren't too offended by their Daddy's decree-you know who doesn't like to stay out of school? I made it almost to the main highway before I had to turn around. The creek was out and rolling right along over the pavement-connecting two cow pastures with a river of muddy water.
Around lunch I gave it a go again and got to work just fine. A short 2 hours later the deluge of rain started again and this time The Deer Hunter's orders were for me-if I wanted to get back across the creek before dark I better go-and go fast. I went!
I've never seen so much standing water on the road through Brasstown. There were literal ponds of water in various places and literal creeks running across the highway where I had never seen them before.
One newly birthed creek came down behind L.B.'s barn, parting ways as it partially crossed the highway-leaving the other fork to stream it's way on toward Wilson Holler. Two of his horses were standing along the fence watching…I think they were as surprised as I was.
Tipper
Appalachia Through My Eyes – A series of photographs from my life in Southern Appalachia.