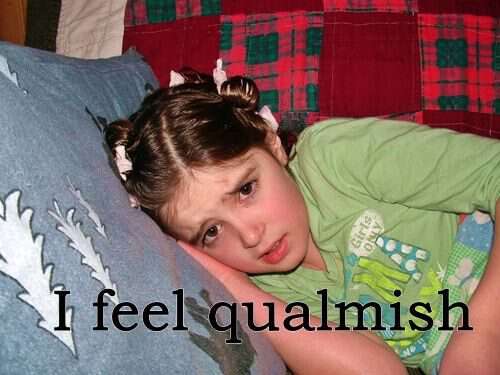 Qualmish, adj. Sick at the stomach; inclined to vomit; affected with nausea.
~Virginia Folk-Speech 1899
—-
Several years ago I used the word qualmish in a vocabulary test. Only a few readers were familiar with it. I hardly ever hear the word these days, but it still describes perfectly the way I feel when I'm suffering from car sickness.
The word is not in my "Dictionary of Smoky Mountain English". I jumped over to the Online Etymology Dictionary to see if it included the word. It did not. However it did have this entry:
"qualm (n.)
Old English cwealm (West Saxon) "death, murder, slaughter; disaster; plague; torment," utcualm (Anglian) "utter destruction," probably related to cwellan "to kill, murder, execute," cwelan "to die" (see quell). Sense softened to "feeling of faintness" 1520s; figurative meaning "uneasiness, doubt" is from 1550s; that of "scruple of conscience" is 1640s.
Evidence of a direct path from the Old English to the modern senses is wanting, but it is plausible, via the notion of "fit of sickness." The other suggested etymology, less satisfying, is to take the "fit of uneasiness" sense from Dutch kwalm "steam, vapor, mist" (cognate with German Qualm "smoke, vapor, stupor"), which also might be ultimately from the same Germanic root as quell."
Makes me wonder if qualmish is a corruption of qualm. Nevertheless, the word's meaning is one I don't like to feel, but always do when I'm riding in a car around curvy mountain roads.
Tipper
Subscribe for FREE and get a daily dose of Appalachia in your inbox