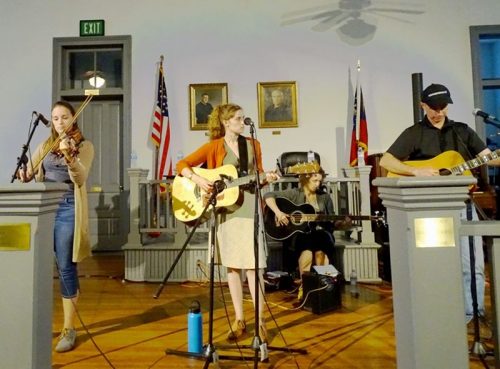 Photo by Ron Priest
I'm sharing another peek into our recent show at the Historic Union County Courthouse for today's "Pickin and Grinnin in the Kitchen Spot."
Over the years we've done the song "Way Back in the Hills" written by Bob Amos a lot. Pap and Paul started doing it first. They learned it from a Front Range cd that Paul had.
It's a great song and somewhere along the way the girls started doing it.
The song is quite long and is pretty demanding to sing so its not a song we do all the time. And as you can hear in the little back and forth in the video, we haven't done it in a good long while.
Overall the song turned out fine even though we weren't really practiced up on it.
"Way Back in the Hills" has beautiful moving lyrics. The words and the melody always make me think of summer even though I'm not sure why.
As Chatter and Chitter sing I think of dusty gravel roads at close of day; of deep blue mountains towering in the distance; of shady coolness under the laurels by the creek; of tired feet encased in worn boots propped on the railing of the porch while kids play in the yard as dusky dark falls. I think of my people: those who went before me and showed me the way and those who walk beside me in the glory of summer in Appalachia.
Tipper
Subscribe for FREE and get a daily dose of Appalachia in your inbox