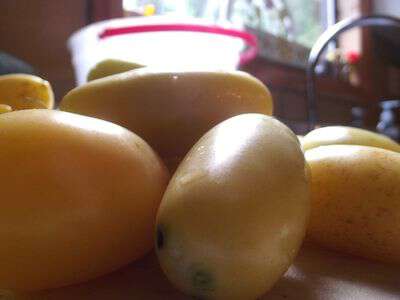 I've heard of tomato preserves for years-but to be honest with you I couldn't imagine wasting my straight from the garden ripe tomatoes on something we might not like. But this year-we've had the best crop of tomatoes we've ever had-in other words I've had so many I don't know what to do with them all. (I believe the excellent seeds we used from Sow True Seeds had something to do with our stellar production)
I've canned tomatoes-made salsa and made soup. One day when I was wishing I had something different to try with the tomatoes sitting on my counter I remembered the recipes I'd seen for tomato preserves.
I thought well-if I can find a recipe in one of my Appalachian cookbooks then I'll give it a try. My favorite cookbook-More Than Moonshine written by Sidney Saylor Farr-had a yellow tomato preserves recipe in it-which was perfect for the Cream and Sausage tomatoes sitting on my counter.
As I read Mrs. Farr's recipe I realized I didn't have 3 hours to let the preserves simmer-so I sorta came up with my own version of  her yellow tomato preserves.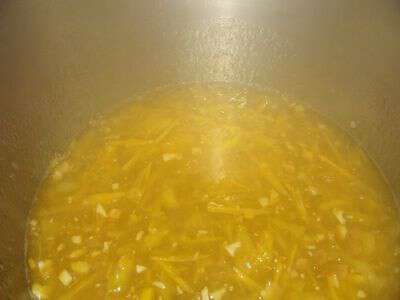 You will need:
8 cups of quartered yellow tomatoes (if the seeds bother you-you can take them out)
1/2 cup water
1 lemon-slivered (try to add any juice from the lemon too-and of course remove the seeds)
1/4 cup finely cut candied ginger
4 cups sugar
jars-rings-taps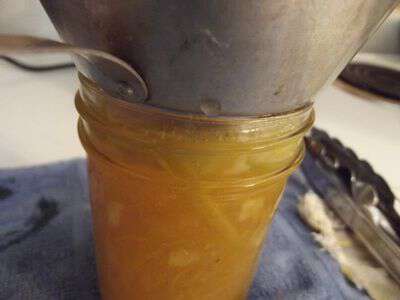 First put tomatoes, water, lemon, and ginger in a large pot and simmer for 25 minutes. Stir in a package of pectin (sure jel) and bring the mixture to a full rolling boil-boil for 1 minute.
Stir in sugar and bring mixture to a full rolling boil again-boil for one minute. Ladle preserves into sterilized jars and seal.
So were the tomato preserves good? Yes they were surprisingly good! They're not overly sweet-and the lemon ginger combo gives them a unique flavor. Our favorite way to eat them so far-is with a smear of cream cheese on a cracker-but they're not half bad on a piece of cornbread either.
Ever had tomato preserves?
Tipper