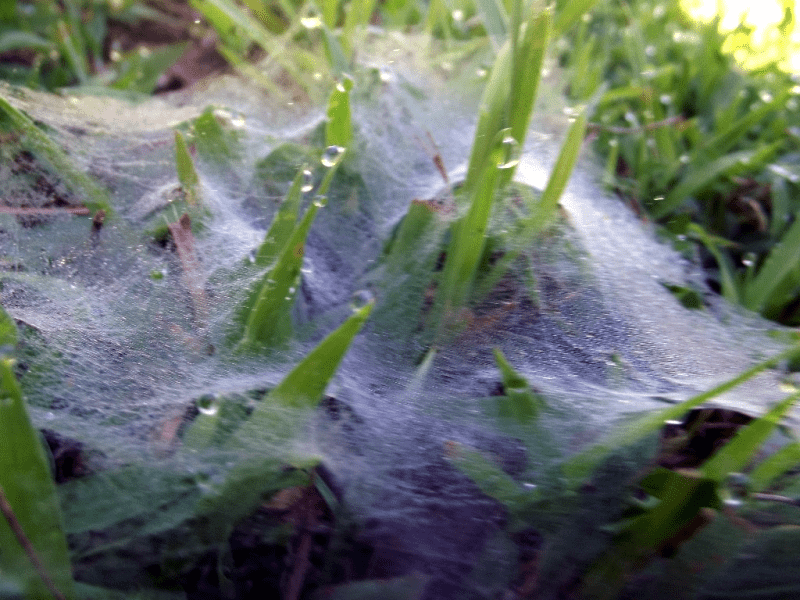 A few weeks ago, dew poisoning came up here on the Blind Pig. I had heard the term before from Miss Cindy, but I had no clue what it actually meant. She said her Grandmother warned her about getting dew poisoning when she was a girl running around barefooted in the summer.
I asked Granny and Pap if they knew about dew poisoning. Granny said "Why yes I was just talking about it this morning. I tried to bandage up the cut on my finger before I went to pick beans but the dew was so heavy it soaked through anyway. But I think it will be okay because my cut is almost healed." (Granny cut her finger on a rusty canning lid the other day)
I asked Granny if children were warned about the dangers of dew poisoning when she was little and she said you only had to worry about it if you had an open cut or sore. If dew entered the wound it was thought to cause infection.
Pap said when he was a boy, the old timers said if you had a cut or open sore during the dog days of summer you had to stay out of the dew or you'd get blood poisoning.
Rush, a blind pig reader discovered dew poisoning can be related to horses. Here's the explanation:
Dew poisoning is another name for a condition also known as scratches, grease heel, cracked heel, mud fever or pastern dermatitis. It usually affects the pasterns and fetlocks, often in the hindlegs. It tends to start from the legs being wet (hence the name dew poisoning), and the skin softening. The softened skin leaves the door open for Staph bacteria to invade and cause infection in the skin. These horses usually have raw, sore areas on their lower legs, or may have crusts that are painful to remove. The treatment is to clip any extra hair, clean the area with a chlorhexidine-based  product (Nolvasan solution is one), gently removing scabs as they loosen, and thoroughly dry the area. The legs then need to be kept out of wet grass and bedding to heal.
Then I got the bright idea to look in one of my books, Folk Medicine In Southern Appalachia. This is what it had to say on the subject:
Fall Sores

Also known as "dew poisoning" and "ground itch," fall sores are lesions that form on the feet, legs, and arms caused by scratches becoming infected with bacteria. In the past, they were most common during the fall but they also appeared during the dog days of summer. The Pennsylvania Germans called them "hunspocke" (dog pimples). Since many children went barefoot during the summer and fall, the feet were particularly vulnerable. Sores that formed on the soles of the feet were called "dew cracks" in Kentucky and "grannies" in Alabama. Various slaves or ointments such a sheep tallow and turpentine, sweet milk and gunpowder, brown sugar and kerosene, or hog lard and sulfur, were applied to the sores. Some people applied balsam sap, wrapped the feet in rabbit tobacco leaves or bathed them with boiled sassafras root water.
So there you have it-a few explanations for dew poisoning. Since there's not near as many kids running around barefoot today I suppose the old term has almost slipped away with time. But now we've revived it, at least for a while.
Tipper
Appalachia Through My Eyes – A series of photographs from my life in Southern Appalachia.