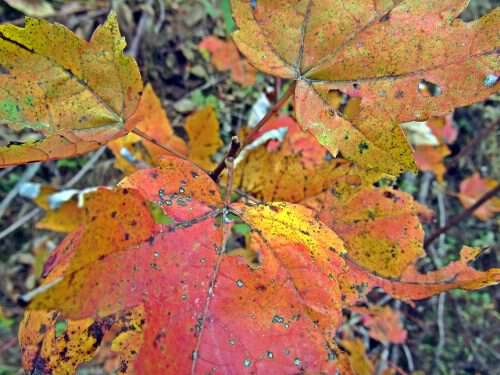 1. The trees have put on their pretty fall garments, but someone forgot to remind Mother Nature to lower the temperature. Although it looks like fall in the Southern Highlands of Appalachia it still feels like summer.

2. You've probably noticed the p.s. about my nephew Ben's movie project that I've been sharing at the end of my posts over the last several days. I wanted to share a quote Ben sent me about the movie:
"The film isn't about Appalachia at all per se, but it does include many tips of the hat to Pap. The main character loses his grandfather and, although his grandfather is meant to be a catholic man in Houston, I tried to steal many quotes and stories from Pap (just because he is the ideal Platonic grandfather). I also hope to use his "God be with you" song during the credits."
Ben was the first grandchild born to Pap and Granny. His birth made me an aunt for the first time. We were so excited about his entrance into this world that we could barely stand it. From the minute we found out he was on the way Granny started making things for him and I think I bought every cute outfit I seen that was on sale.
In those days Pap was driving an oil truck and one evening when he got home he told us that he'd had the strangest dream the night before. He dreamed that he was coming home and as he looked out into Whitmire's pasture he saw a little blond headed boy running. Pap thought that he would run and catch the boy, but then he thought no that he shouldn't. Pap thought the dream was meaningful in some way and after Ben turned out to be a little blond headed boy that stole all our hearts he knew for sure the dream was meaningful indeed.
I've always been proud of Ben and after discussing this movie project with him I believe it is a worthwhile endeavor. I hope you'll go watch the short video about the movie and help spread the word to friends and family who you think might be interested in the project. Go here to see the video.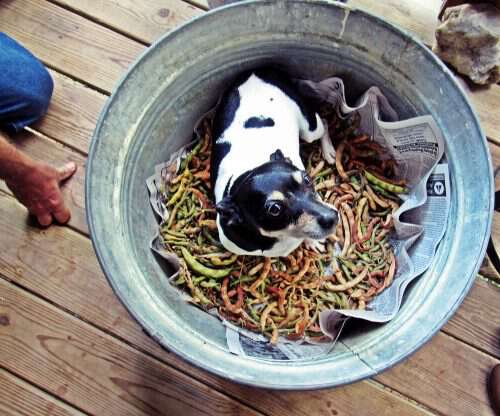 3. Remember the Yonce Bean? It did fantastic for us this summer! The bean produced well and seemed to do well in our unusually hot and dry weather. We harvested the last of the Yonce Beans to use as seed next summer. I put them in a big tub to continue to dry on the front porch. I have no idea why Ruby Sue felt the need to sit on them. Silly dog.
Several weeks back we cleaned off the bean patch. Soon after I noticed 2 new bean plants that had sprouted-I guess we dropped a few beans as we were harvesting the dry ones for next year. Those volunteer plants have a few beans on them and with the warm weather we're having it looks like they'll have plenty of time to grow before a hard frost gets them.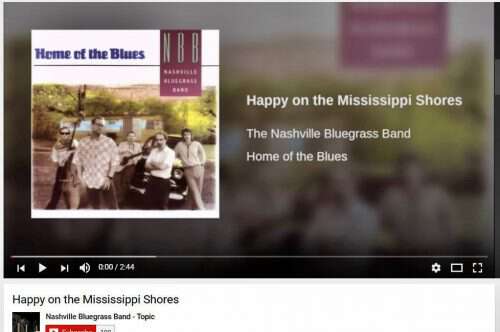 4. The Nashville Bluegrass Band is hands down one of my favorite groups. Their music is outstanding and their harmony is legendary. I've loved their version of The Delmore Brothers classic Happy on the Mississippi Shore for years. Its a song that anyone who had a good childhood can relate to. I've only lived along a mountain creek which is nothing like the massive Mississippi River, but I can sing the words and in my mind I think I love that mountain and I will forever Its calling everywhere I go To that land I'm going never going to go no more I'll be so happy with my mom and daddy on that mountain side by the creek Picking and playing round the cabin door children singing on that mountainside Happiness is with them every night and day and on the mountain they will stay. I've been trying to get Chatter and Chitter to sing that song for me for at least the last 7 or 8 years-looks like I need to get someone else to sing it don't it? Go here to hear the Nashville Bluegrass Band and if you've never heard them before get prepared to be blown away.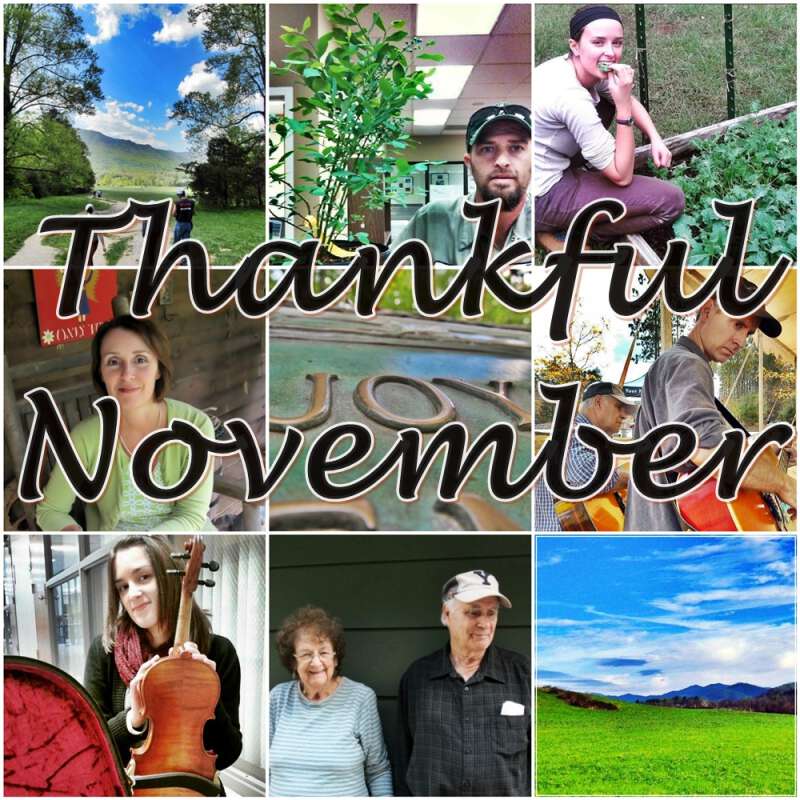 5. During the month of November I'll be hosting a variety of giveaways as a way of saying THANK YOU to Blind Pig and The Acorn readers. If you didn't know it, you're the best blog readers in the whole wide world!
Tipper