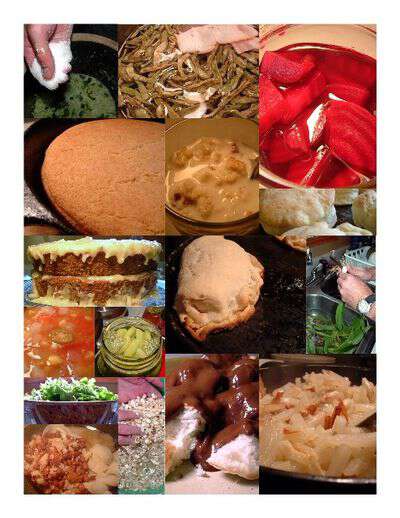 After posting Granny's Pumpkin Bread recipe yesterday, I overheard a conversation that made me think about the food one associates with the word-the place Appalachia.
You can go here: Appalachian Food to look back through all the food posts I've written since I started the Blind Pig.
Once I eavesdropped on the folks talking-I knew I had to ask you-when you hear the word Appalachia-what is the first food item that pops into your mind? The second? The third?
For me-the first-has to be corn: fresh corn-cream style corn-cornbread-hominy-grits-cornmeal mush-cornmeal gravy-or all the above.
The second for me-potatoes. Fried potatoes-soupy potatoes-baked potatoes-mashed potatoes-potato soup.
The third-gets a little fuzzy. I've thought about what I would answer since yesterday-and I can't make a firm decision. I'm indecisive like that sometimes (just ask The Deer Hunter). I want to say-biscuits or pinto beans or green beans or kraut or arsh potato cake or apple stack cake or Bonnie's Christmas mints or…or…see I just can't settle on one item.
Hope you'll leave me a comment with a list of the 3 foods that come to mind when you hear the word Appalachia.
Tipper
Appalachia Through My Eyes – A series of photographs from my life in Southern Appalachia.