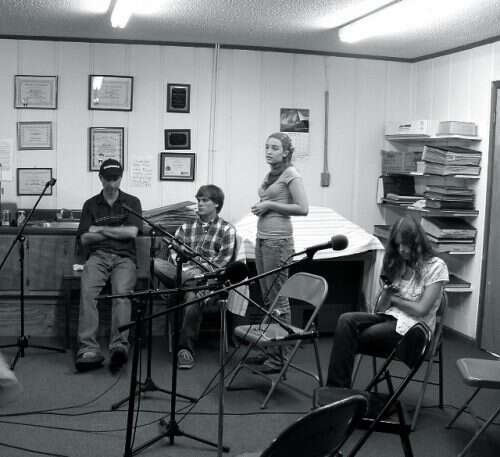 It's been hot here. The Deer Hunter made a trip to deer camp and it was 102 down there-made me thankful for the high 90s we've been having. Saturday the Blind Pig Gang hid from the heat-we spent about 7 hours in the room above. We were all there-I'm behind the camera and Pap was probably gone to get a cup of coffee. Mandolin Man even dropped by.
Maybe you've guessed already-we were at a recording session. Matt Cochran (a computer-film-recording whiz) laid down as many tracks as he could for us during those 7 hours-and he filmed us to boot. Will it be any good? I think so. The few tracks he rendered on the spot sounded good. Who knows what the film will look like-Matt had a dedicated camera on us the whole time-and he let Chitter film with a hand held camera as well. She wanted every moment to be a bloopers moment-and she got her wish pretty often.
What have you been doing to beat the heat? What's the highest temp you've had this summer?
Tipper
Appalachia Through My Eyes – A series of photographs from my life in Southern Appalachia.