Remember back in May when I was prowling through somebody's things? (if you missed it-you can click here to read it)
Several months ago, Pap called to tell me a story he had heard while loafing down at Clay's Corner. It was a very interesting story. He said he thought Clay had got the old tale from somebody at the folk school. I asked David Brose, Folklorist for the John C. Campbell Folk School, if he knew about the story. He did, and he most graciously invited me to visit their archives and read the story for myself. The boxes I prowled through that day belonged to Fred O. Scroggs. I never knew Fred O.-but I've heard about him my whole life. Over the years, the story of how he wooed Olive Campbell and Margurite Butler to build their folk school here in Brasstown has become a fairy tale of sorts to most native Brasstonians.
For a history buff like me, Fred O.'s boxes were fascinating: they held interviews with Civil War Veterans; they told stories of real life events. Some funny, some sad that happened here, and they held credit ledgers from Fred O.'s store. I poured over every entry hoping to see the name of a person I had known until finally I did-Clate Mason.
In those boxes I found several things I wanted to share with my Blind Pig readers, but first I wanted you to know who Fred O. Scroggs was. There are numerous pieces written regarding Fred O.'s relationship to the folk school, but I wanted a fresh perspective. I wanted to hear a native Brasstonian's take on Fred O. Scroggs. Lucky for me, and you, I found exactly what I wanted. Take a few minutes to read David Anderson's thoughts and memories of Fred O. Scroggs. I think you'll enjoy it.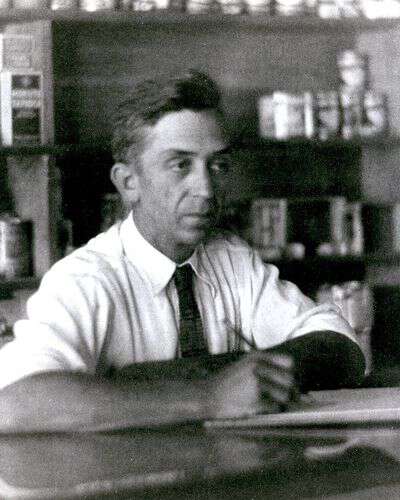 Fred O. Scroggs-photo provided by the John C. Campbell Folk School
——————————-
Fred O., A Dependable Anchor in a Small Community
By: David C. Anderson
It appears to me that it is often the case that a person's contribution to a community is not often recognized or appreciated until after that individual has departed the scene.
I am speaking primarily about small communities and more particularly about the Village of Brasstown, the place where I was born and raised.
If you think about it for a minute, it becomes fairly obvious that most families or communities have a person who perhaps unknowingly acts as the anchor for the entire unit. When this anchor is cut away for any reason the entire family or community begins to drift away much like a boat that is cut away from the mooring. There is (or was) a person in every small community, long before the days of all the magical things like computers, telephones and such gadgets, that were regularly called upon to help solve everyday problems or situations for their friends or neighbors.
I believe Fred O. Scroggs was such an anchor for the small settlement of Brasstown.
I don't pretend to say that I knew this man from everyday perspective, but I can say that as a small boy growing up in Brasstown I came in contact with him from time to time. These contacts with Fred O. as well as numerous other old timers usually took place on Saturday mornings at the general store, or across U.S. Highway 64 at Bass Arrants mill house. Both of these establishments were also located dead in the center of Brasstown.
Stories are still floating around Brasstown about Fred O.'s contribution toward locating the Campbell Folk School on several hundred acres of Scroggs family land. Several reports have him participating in some of the first meetings with Olive Campbell and Margurite Butler, the co-founders of the school, and as the story goes when they mentioned that the proposed school was to be patterned after the Danish Folk School model, it is said that Fred O. promptly gave a lengthy dissertation outlining his familiarity with the Danish school model. This might be the case? However, it is a fact that he took a big hand in forming some of the community organizations in Brasstown in the early 1920s and was heavily involved in community affairs well into the late 1950s.
Fred O., I sincerely believe, was a good neighbor. I remember very well the time in the early 1950s when as a small boy, my father, Cline Anderson, and I walked to Fred O.'s house on Settawig Road to see if Fred O. could be hired to wire our house for electricity. Electric utility lines were just being installed in some of the coves and the folks in Anderson Cove were anxious to be part of this modern convenience.
The deal was made, and within a week or so Fred O. and Walter Arrant came by and began wiring our house for electricity. I don't remember just how long the two of them worked, but I know it was several days. My mother would make a good country dinner for the two of them each day. (lunch was called dinner back then) I didn't find out until many years later, when my dad mentioned it to me, that neither Fred O. nor Walter Arrant would take payment for their work. I always felt that there was really no greater service to ones neighbor than to offer ones talent for nothing more than a heartfelt 'thank you' and a hearty meal.
From this point on I always had a greater respect for Fred O. and his numerous other contributions to his community, and more than that, to his neighbors who were in need of his talents.
I remember Fred O. as a lean man, slightly short in stature, who walked with a smooth gait and with a slight lean to the right. It's been a day or two and I could be wrong about whether the lean was to the right or the left…. none the less, in my minds eye I can still see him walking along the road there in Brasstown in such a fashion.
I remember him as having a cigarette in his hand most of the time.
Once while visiting his rock shop there at his home place on Settawig Road he went to great lengths to describe and demonstrate to this small boy how it was possible to make a perfectly round marble by using a hollow pipe and a piece of rock. I dreamed of how nice it would be for a boy to have a fist full of custom made marbles in the pockets of his dirty blue jeans.
I remember once while hanging out in Queter Caldwell's store here in Brasstown, Fred O. was studying a cigarette display with a picture of man's face. He was describing that no matter from which angle you viewed the photo the eyes seemed to be looking directly at you. He certainly paid attention to detail. He was right. I tried it. It worked.
The question has arisen as to when Fred O. began his detailed interviews with the then surviving Veterans of the American Civil War and detailing other events that he counted worthy of mention. The dates listed on many of his writings are from the early to mid 1920s. Based on his interest in history and as is displayed in his printed work, it appears that he was keenly aware of the importance of preserving the personal stories of the Civil War Veterans as well as the documentation of other events that were taking place in his present time. We are all richly blessed by his undertaking, for through his work we are placed in the presence and in the lives of individuals that would otherwise be lost forever.
In later years I became part owner of the Rockhounders Building that still stands here in Brasstown. The exterior of the chimney is laid up with blue and white Marble and the inside of the chimney is veneered with dozens of examples of minerals from this area as well as other areas of the country. Each item displayed is marked with a metal pin with a number corresponding to a master list describing each item laid up and displayed in the rockwork.
Guess who? You guessed it! Fred O. was one of the folks responsible for this piece of art.
Perhaps it would be a consolation to some of us to know that just maybe after we have long since passed from the scene that someone would take time to mention our name in an unsolicited tribute to our better character. Perhaps by sharing these few insights about Fred O. someone might have a better insight to the varied talents of this man.
It seems in some sense, that of the innumerable facets of one's life whether simple notes such as these would have any significant bearing on the whole? At the very least we can continue to debate whether or not Fred O. leaned to the right or to the left as he walked along the road here in Brasstown. The other small items I have pointed out are as I remember them.
—-
Tipper