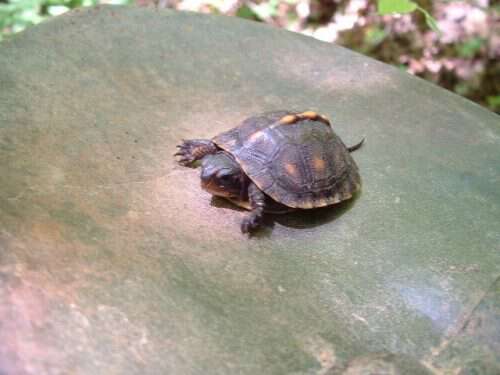 We found this little guy up the creek and interrupted his travels to take a few pictures of him. He was no bigger than a minute. Pap calls the small turtles that inhabit our woods terrapins. I'm not sure if that's their real name, but I always think of the way Pap says the word when I see one.
My niece, the 2nd Indian Princess ,who lives in our mountain holler used to catch her a terrapin for a pet at least once a summer. She'd build a little pen of sorts to keep it in and try to feed it grass or vegetable peelings. After a few days she'd grow tired of playing with it and let it go at the edge of the woods. Before she turned it loose, she'd paint a small streak on it's shell with finger nail polish that way she'd know if it ever came back to her. One year we saw a pink streaked terrapin way up the creek. Knowing it was one of hers I said "It's probably making tracks for Georgia hoping it's never loved to death by a skinny little girl with big brown eyes again."
Tipper
Appalachia Through My Eyes – A series of photographs from my life in Southern Appalachia.