Today's guest post was written by Susanna Holstein aka Granny Sue.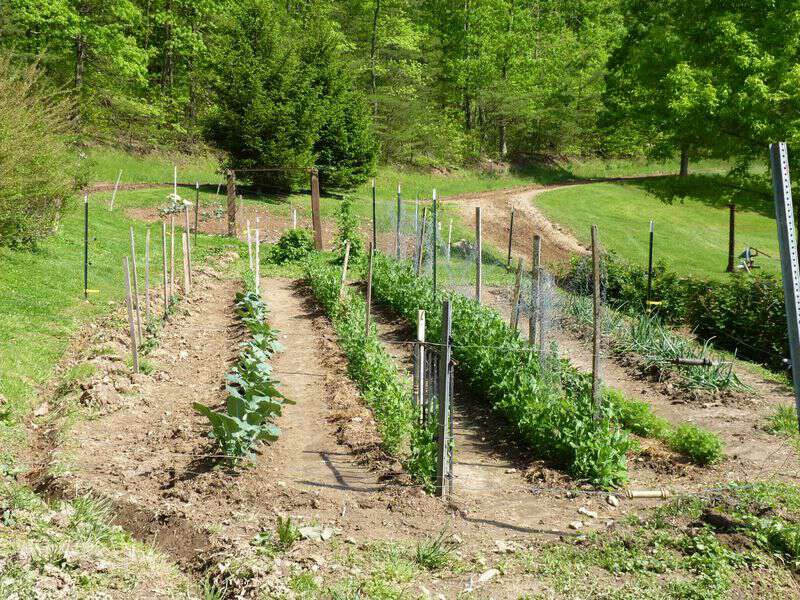 It was quite a strange winter, wasn't it? Now our thoughts have turned to spring and planting, to green and flowering things. We hesitantly put away our snow shovels, but not too far back into the shed. We check our woodsheds and assess the damage and try to figure if there's enough wood to get us through until the weather is reliably warm. We check our cellars to see what the damage is there too, and what we will need to focus on in the coming canning season. We write up and draw out garden diagrams, and enthusiastically make plans for all sorts of projects that may or may not get done. It's the season of rising hope, limitless possibilities and that certain smell in the air that can only mean spring.
But March can be a freakish month. As Nathaniel Hawthorne once wrote, "It is sad that nature will play such tricks on us poor mortals, inviting us with sunny smiles to confide in her, and then, when we are entirely within her power, striking us to the very heart." How many times have I seen the apple and peach trees burst into bloom, and then see the withered blossoms after a night's hard frost? Gardening is not for those who give up easily; each year we stride out with fresh hopes, the garden a blank sheet of paper waiting for our hoes and shovels to turn it into this year's story. I have to admit, each year I begin my garden sure that the ending will be of the happily-ever-after variety, but the fact is that most years the result is a mishmash of successes and failures.
For centuries writers have shared their love of gardening in words. As early as 410 AD, Chinese writer Hsieh Ling-Yin wrote, "I have banished all worldly care from my garden; it is a clean and open spot." There is something about gardening and writing that go together. Perhaps it is the quiet nature of both occupations; both require a certain comfortable silence, an aloneness in an otherwise busy world. Gardening is contemplative; as we work we think about what we're doing but also about what we did in this garden in other years and what successes/failures we've had. We think about those who once worked alongside us, children who have grown and gone, parents who taught us what they knew. We examine plants, see tiny veins in leaves, thin tendrils of reaching roots, the tidiness or unruliness of exuberant plants. We search for bugs and pests and weakened plants. We sit back on our haunches and breathe deep the odor of soil, of green, of flowers and sweat.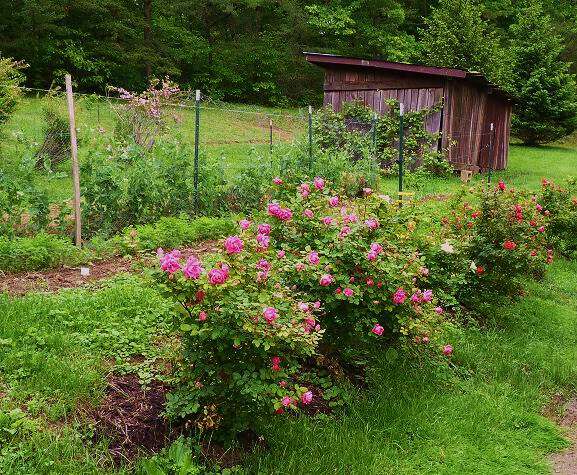 Writing requires that same depth of quietude: we write the words as they come into our minds, watch them take form and meaning on the page. We remember other things we've written, characters we've created, people with whom we shared our work; we prune and trim, cultivating images and scenes. And when our minds are tired of word-wrestling, we can go out in our gardens and lose ourselves in the simplicity of garden work.
An old Hebrew proverb says, "As is the garden, such is the gardener." My gardens, then, certainly reflect eclectic tendencies: herbs jostle with roses, flowers with lettuce, a wild elderberry grows at the foot of a maple and asparagus seedlings come up and grow where they will. I can't say there's much order in the way the gardens are arranged as they seem to do it themselves. I love the wild abandon of it, the surprise of finding currants hiding under overhanging daylilies and garlic bulbs under the oregano.
I leave you with this thought from Francis Bacon: "God Almighty first planted a Garden. And indeed, it is the purest of human pleasure. It is the greatest refreshment to the spirits of Man."
——————–
Funny that Susanna should mention the fickle nature of the month of March. I'm already worrying March is playing a mean trick on us this year. With the warm weather we've had over the last week along with what's forecasted for next week I'm afraid our fruit trees and bushes may get bit when old man winter returns for his final blow.
I hope you enjoyed Susanna's post as much as I did! Be sure to jump over to her blog for a visit.
Tipper