Today's guest post was written by Paul Wilson.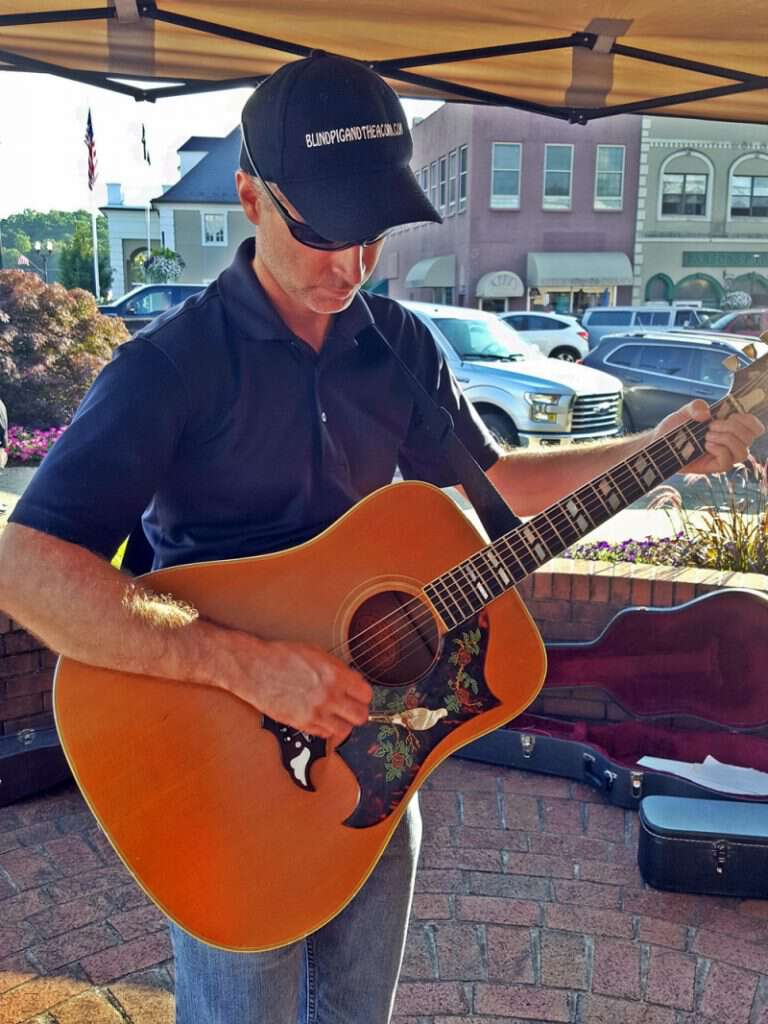 Paul – Murphy, NC – July 2017
In one of our Youtube uploads a few weeks ago, I sang an original song about how Pap sang songs for me when I was little. Cash on the Barrelhead is one of the songs that I would often ask him to sing for me. He would sometimes try to get out of singing it because he didn't know all of the words. He sang the song in G major, which is three frets higher than I sing it here, in E major. Singing it in G would make it much easier to pick, especially the little intro, but I cannot sing the song that high.
This song is one of the few solo songs ever put out by the great Louvin Brothers while they were still recording as a duet. According to Wikipedia, it was released in 1956.
Ira sang the song in D major, which interestingly is two frets lower than where I sing it in the video. I think he clearly made that choice for the sake of the music (rather than for the vocal). The original recording features excellent mandolin picking by him as well as great steel work from Don Helms (Hank Williams, Sr.'s steel player), and the great Paul Yandell on electric guitar.
According to Wikipedia, it has been recorded by many other artists, including Dolly Parton, Gram Parsons, Emmylou Harris, Leftover Salmon, Bobby Lord, Ronnie Sessions, Rhonda Vincent, and Allison Krauss. Charlie Louvin also recorded the song a couple of times in his solo career. In the version I've heard, he sings the song comfortably in F, one fret higher than this video.
There are many versions of this song on YouTube featuring full bluegrass band accompaniment. I wanted to do this with a single guitar, similarly to how Pap did it for me when I was a kid. I added the pauses and extra beats in B and other places to give me extra time to think of the words. I apologize for my appearance. I had just gotten home from a tennis tournament.
This song always stirred my imagination particularly because I knew that Pap had personally experienced many things similar to those described in the song. As a young man, he did a lot of hitchhiking and navigating through situations where he had very little money. To me, this song shows how life can sometimes be unsympathetic when you don't have $.
The lyrics are below. I updated "six gun" to "9 mil" to make it more in line with present day. By the way, if you're wondering why I'm playing this Ibanez guitar, it's because this guitar may be given away in the coming months here on the Blind Pig and The Acorn.
Cash on the Barrelhead
Got in a little trouble at the county seat.
Lawd, they threw me in the jailhouse for loafing on the street.
When the judge heard the verdict, I was a guilty man.
He said, "$45, or 30 days in the can."
"That'll be cash on the barrelhead, son.
You can take your choice. You're 21.
No money down, no credit plan.
No time to chase you. I'm a busy man."
Found her telephone number on a laundry slip.
Had a good, hardy jailer, 9 mil on his hip.
He let me call long distance. She said, "Number please."
No sooner than I told her, she shouted out at me:
"That'll be cash on the barrelhead son.
Not part, not half, but the entire sum.
No money down, no credit plan.
For a little bird tells me, you're a ramblin' man."
30 days in the jailhouse. 4 days on the road.
I was getting mighty hungry. My feet a heavy load.
Saw a Greyhound comin'. Stuck up my thumb.
Just as I was being seated, the driver caught my arm.
"He said that'll be cash on the barrelhead, son.
This old grey dog gets paid to run.
When the engine stops, Lawd the wheels won't roll.
Give me cash on the barrelhead, I'll take you down the road.
Give me cash on the barrelhead, I'll take you down the road"
———————
I hope you enjoyed Paul's guest post and his picking and singing as much as I did! I can remember Pap singing the song to Paul when we were little so that makes the whole thing seem extra special. Yet when I watched the video for the first time after Paul uploaded it, it wasn't Pap that I thought of it was Uncle Henry. I've never once thought Paul looked like Uncle Henry in any way shape or form, but something about his mannerisms and expressions in this video is Uncle Henry to a T.
Today would have been Pap's birthday. It seems fitting that Paul wrote the guest post and sung the song even though we sure didn't plan for it to be published on his birthday-that's just how it worked out.
Tipper