It's time for this month's Appalachian Vocabulary Test-but before you take it-Don Casada has something to share with you.
————————-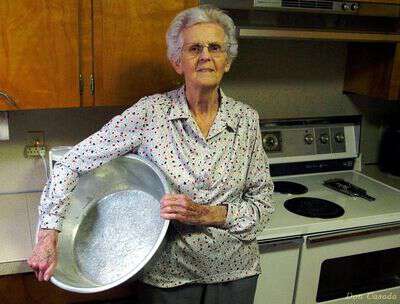 I got word today (Thursday) while I was back in the mountains on a bushwhacking trip looking for home sites that Pearl Cable had fallen and broken her hip this morning. Pearl's parents, Miles and Sarah Crisp, knew what they were doing when they named her Pearl – she is a beautiful gem of a mountain woman. This is a picture I took of her last year holding her mother's kraut-making pan, which Pearl both treasures and still uses.
The details are still being worked out as I write this, but surgery is in the offing. I'd encourage the Blind Pig readers to offer up a prayer for darlin' Pearl.
Don Casada
————————-
Maybe you're wondering why I'm telling you about Pearl and her fall. A few reasons come to mind: Don has been working on a guest post for you-about Pearl-so you'll soon know more about her; Mountain folk like Pearl are the very reason the Blind Pig exists; and lastly because of people like Pearl-the rich language of Appalachia that I celebrate with these monthly tests-still springs forth from my mouth.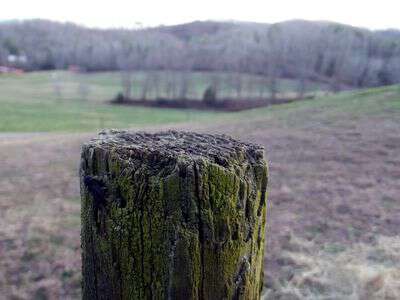 Now for the test-take it and see how you do.
Scotch
Screak
Scrooch
Sell out
Shine
Scotch: to stop something from moving by placing an object under it. "His old truck was bad to jump out of gear. Every time he had to park on a hill he had to scotch the tire with a piece of wood he carried in the back."
Screak: to squeak or squeal. "The old wood floor screaked so bad you couldn't hear yourself think in that place!"
Scrooch: to sit closer together; to move over to make more room. "I'm freezing to death. Scrooch over here and keep me warm."
Sell out: to move out of an area. "People are selling out right and left. I reckon they're a hoping to find work somewhere else."
Shine: to like. "I took a shine to The Deer Hunter the first time I ever laid eyes on him."
Not only am I familiar with all of this month's words-I use each of them on a regular basis.
How about you?
Tipper