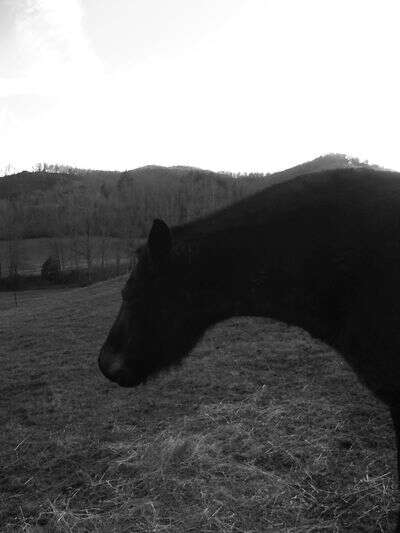 Today's guest post was written by Mary Lou McKillip.
Mules and more Mules
I enjoy talking with old timers who have a story to tell about yester- years. I once had the pleasure of talking with an old gentleman who told me the mule stories below. He had a crinkle of mischief that seemed to flow from his eyes. He grinned from ear to ear while telling me these tales of humor.
He said "My Dad always had mules to plow his fields." He told me his Dad had a pair of black mules about the same in stature. One mule wouldn't work without the other one. One day his Dad only needed one mule to plow. He harnessed Joe hooked him to the singletree and left Bob in the stable. Joe plowed one round then balked. He wouldn't pull the plow no matter what his Dad said or did. His father got Bob out of the stable tied him near the field where he was plowing with Joe, then Joe happily finished his chore of plowing the field.
His Dad also had an ole mule named Fred. Now ole Fred was like his Dad he was getting old. Fred would work hard but when he got tired he would lay down and stretch out to rest. His Dad always allowed Fred this privilege. One day Fred was stretched out resting and a Buzzard was circling in the sky. First thing his Dad knew that Buzzard flew down lit under Fred's tail and took a big bite. Boy, old Fred was up draggin that plow behind him fast. He went round and round finally the old Buzzard fell from under Fred's tail. When it came for Fred to leave the old farm and plow in Heaven, he propped up against a maple tree and died.
One of his Dad's mules was named Kate. She was humble, did everything his Dad commanded. She had no faults to hear his Father tell it. His Dad had a wooden homemade sled he hauled his plows on. He would take Kate and plow folk's gardens in the neigborhood. After plowing for folks he would tie the reigns to the sled and say to Kate, "It's time to go home gal." Kate would go home to the barn on her own.
The man's Dad died with a big corn and potato patch already out. The storyteller along with his brother and sister harvested the crop. Wouldn't you know, gentle Kate had a different side. Guess what? Do you think Kate helped the process along like she did with their Father? Heck no, they would have to catch her to put the bridle on while she was trying to bite them. When they finally got her hooked to the plow to get the potatoes up, she wouldn't pull the plow. His brother hollered, "Hit her in the tail with a tatter, she'll move it then". The story teller said, "Getty up Kate." She turned her head slowly to look at him then shook her head no.
Kate was determined no youngins of her master was going to take her masters place and boss her around. When she was in the pasture, she would pretend she was going to let them catch her. When they got close to her she'd turn and run, curling up her lips whining at them as if she was laughing at them. The siblings had to get their old aging mother to hobble out to the pasture and catch Kate. Kate was as gentle as a lamb being lead to the slaughter when their mother caught her.
When it was gathering corn time his brother made the mistake of tying the reigns to the sled. He didn't say gal it time to go home but Kate headed for the barn, sled, corn and all. Boy that family had one more time with Kate but they did eventually get the crop harvested.
Finally they decided to sell Kate. The folks that bought Kate said she was gentle and worked for them like she did for their father.
Would you venture a guess to say Kate didn't like the offspring of her master? Or would you have doubts as to who was the boss on that old farm………………
——————————
I hope you enjoyed Mary Lou's mule tales as much as I did.
Tipper