Today's post is fourth in a series written by Ron Stephens about his father-in-law Harvey E. Corder and the Blue Heron Coal Camp located in Kentucky. You can see the previous posts here: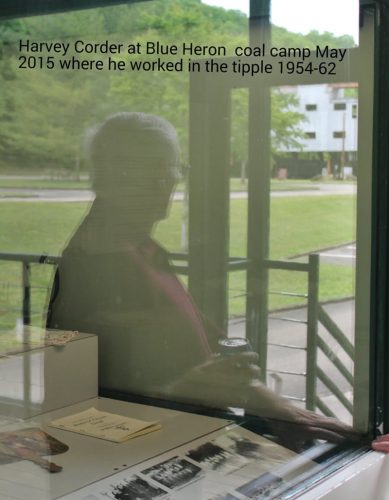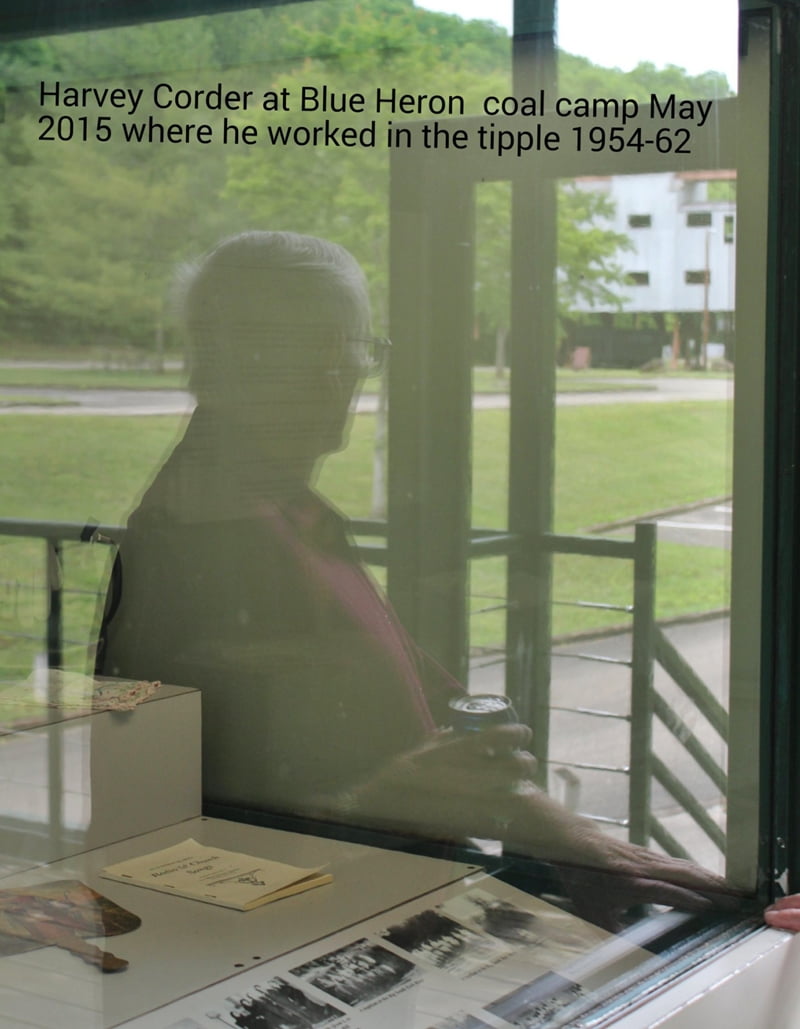 For years after Eighteen shut down there was a fuss about what to do with this country. Some wanted to dam the river and talked about all the recreation visits and money a lake would bring. Others wanted a national park and said there were already too many lakes and not enough wild rivers. Both sides thought their idea would be the economic salvation of the country.
The Park idea won, back in the '70's. I guess if that had not happened, they would have sold the tipple for scrap, like the one at old Worley. (Me and Calvin tore it down for the timbers and the tin. It was the dirtiest job I ever got into in my life with every surface covered deep in coal dust. Compared to that, mining was clean.) I do not know if you could say we local people won. The Park has not made much difference that I can see; not nearly the difference the mines made. A lot of their people don't even live here, too country I reckon. It is still a poor county with few opportunities. But we can't blame the Park for ending mining.
Of course, I never thought much about it in those days. When I came here, I had a wife, a little boy living, and another son in the cemetery. Later, there was first a girl then another boy. They were all my responsibility and that was plenty. There were not many ways to make a living around here to start with. I fed, clothed, and housed my family and myself, taking what chances offered. My faith was, and still is, that there would always be a way made. We had no thoughts to waste on whether the work was significant beyond our understanding or our own time. None of us chooses our time and once caught in it we have to deal with what comes. Is that not how life goes, we just do what we have to and as we can?
I was not off too long before I was re-hired. I did not get out of coal mining; did not even have to move. I even stayed on a tipple, way down the river and west up Rock Creek to #16 mine. My job was to pick slate and rock off the screens. I guess that is where I lost a lot of my hearing with those screens and belts running beside my head. But even that mine was in the process of winding down. When it closed, they ran the tipple on a lease with coal trucked in for a time, then that dried up as well.
Many a day, down at Sixteen, I thought about when Dad worked at the quarry for the WPA, back in the Depression.  It was not far on up the creek. The WPA quarried limestone for the roads and schools they were building. Dad walked to and from work every day from all the way over in the Jones Holler on Little River. It was about ten miles by the near-way through the woods. He made a dollar a day, taking the only chance offered and making the best of it just like we have always done.
Those were lean times. I remember once Dad brought home some store-bought light bread. There was just enough for each of us to have one piece. I thought it was the best thing I have ever eat in my life. But we didn't think we were poor. We knew too many who were just like us.
Along about then the Company was starting up the new Justus mine, named after the Company founder, down in what we called the Coffey Holler off of Paunch Creek. There was coal enough to last for years and years, reaching out ahead of the old works into new country. This time they had core drilled and they really knew. There wasn't just one seam but three, the number one, the one and a half and the number two, each at different levels but reversed with seam one at the bottom and two at the top. I reckon they must have numbered them in the order they found them, coming upriver from the limestone country. Just as Eighteen was ground-breaking by being all-electric, the Justus used the latest in equipment. There was no tipple. Conveyor belts carried the coal and waste rock outside. The coal went to a storage pit in a side holler where a second belt carried it out of the holler, through a hole in the cliff and over the tracks to dump it in the cars. The third shift run rock and a dozer spread it as fill up the holler above the coal pit.
The Justus was only a mile or so north of the old Barthell camp where I grew up and only four or five miles from the old Eighteen tipple. It was an even shorter walk home than Eighteen had been. They moved me from #16 to the Justus. It looked like my prospects were even better than they had been in '54. I built a new house on Worley Hilltop, brick this time and with a basement. It was the best house I had ever lived in and I could finally quit renting.
—-
Be on the lookout for the next part of the series "Reflections."
Tipper
Subscribe for FREE and get a daily dose of Appalachia in your inbox