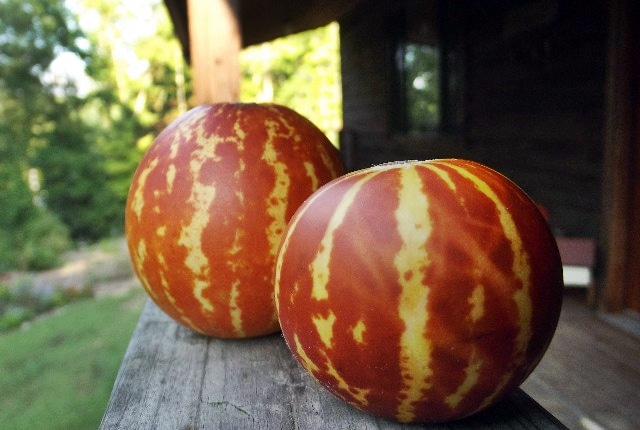 "Momma filled up baskets with them, and sat them everywhere in the house, mostly in front of open windows. She used them as air fresheners, before Glade or air conditioning. They were considered a "pleasing" plant by my Daddy. He planted them along a fence line, purely for the pleasure it brought my Momma."
—Sue McIntyre
—-
Cucumis melo var. dudaim better known as plumgrannys belong to the melon family. Although the small melon blows the top off the smell meter, it barely raises the meter when it comes to taste.
Other common names for the small pretty fragrant melon: pomegranate, ornamental pomegranate, tigger melon, vegetable peach, apple melon, and perhaps most famously Queen Anne's Pocket Melon (she supposedly carried one in her pocket to ensure she smelled like a Queen).
The small melon grows on a vine and will grow well on a trellis or you can simply let the vine roam across the ground where it will.
It's been a few years since I've grown plumgrannys. After Sue left the comment above I went in search of my seeds to plant some this year, but I couldn't find them anywhere. My list of things I want to grow next year is growing by the day, and now I've added plumgrannys to it.
Tipper
Subscribe for FREE and get a daily dose of Appalachia in your inbox