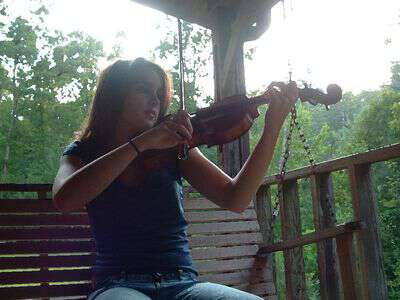 One of the stereotypes that Appalachians are often labeled with is- we all have the music making gene. Of course not all of us do. But in my life experience-there has been much music. Not just from my family.
As I look back to childhood and note the close friends I had-there was music in their families too. One friend-her mother plays the piano-her father loved to sing in the choir. Another-her Mother loved to sing in the choir and played the hand-bells as well. Yet another friend's stepfather played the drums.
Of course if I believed any of the above was relegated to Appalachia alone-I'd be buying into the stereotypes too. Music is loved and played by many across this wide world. But I am thankful my life and my front porch is full of tunes on a daily basis.
I listen to all sorts of music as I drive about my way. At the moment my favorite tune is Sandy Boys-you can hear a version of it by going here. But the version I'm in love with is by Brasstown's own Dog Branch Cats.
So what's your current favorite song?
Tipper
Appalachia Through My Eyes – A series of photographs from my life in Southern Appalachia.