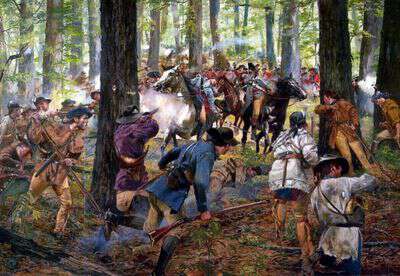 (Photo by Old Glory Prints)
John Henry Stonecypher, Jr. Revolutionary War Soldier by Ethelene Dyer Jones
On July 16, 1994, descendants and admirers of John Henry Stonecypher, Jr., Revolutionary war soldier, gathered for a service of dedication at the Stonecypher Family Cemetery in Eastanollee, GA, Stephens County. An historical marker was dedicated and a patriotic program conducted. Stonecypher's service as a Revolutionary soldier was recounted. A great, great grandson of Stonecypher and Sons of American Revolution member, John Paul Souther (late) of Gainesville arranged the program and led the effort to place a fence around the graves, secure the memorial marker, and plan and implement the impressive program.
As strains of patriotic music came from an impromptu brass band assembled by 7th and 8th generation great grandchildren of the patriot, and accolades were given, we were glad to be there. We knew we were participating in history and honoring a worthy individual who had put freedom above personal safety, liberty above personal comfort. We heard these words from John Henry Stonecypher himself, quoted from his pension application of September 3, 1832: "I received no pay other than the liberties of my country." It was a glorious afternoon beside his grave and near the house he built for his family, still standing in splendor near the family cemetery.
John Henry Stonecypher, Jr. was born in Culpepper County, Virginia in 1756, the son of German immigrant Johann Heinricus Steinseiffer who came to America in 1753, and the grandson of Johannes Steinseiffer who came to America in 1749. John Henry, Jr. lived in Virginia until his family moved to Wilkes County, North Carolina in 1763.
John Henry Stonecypher, Jr. enlisted in the United States Army in June, 1776 as a private in the North Carolina Militia under Colonel Cleveland and Captain Shepherd. He entered the service at the Wilkes County Court House and was made a guard over some prisoners-of-war at Salisbury under Captain Gordon Shepherd. This was a three months tour of duty.
He returned to Wilkes County Court House and was reassigned to a battalion at the Crew River where they sought to stop the Tories led by a Captain Roberts. At King's Creek they also warded off Tories. That ended his second three-month's enlistment.
He rejoined the service in June, 1780 at Wilkes County Court House under the leadership of Captain Rutledge in the regiment commanded by Colonels Loches and Isaacs. Commander-in-Chief was General Gates. He also served under General Rutherford. That term of service was three months.
His fourth term of duty in the North Carolina Militia began at Salisbury. The regiment marched to Charlotte Court House and then to Camden, South Carolina where he again fought under the command of General Gates. The militia (Overmountain Men) army was defeated. Stonecypher escaped and returned home to Wilkes County.
After a few days of rest, he went again to Wilkes County Court House and signed for the North Carolina Militia under Colonel Cleveland with whom he continued in service and fought in the Battle of King's Mountain in October, 1780.
He was then placed under the command of General Davidson and engaged in the Battle of Okimish at Beattie's Ford on the Catawba River. There they were trying to prevent the British under General Cornwallis from crossing the river. General Davidson was killed in the battle. The militia was defeated and retreated to the Widow Torrance's house and lands.  There they were attacked the next morning in her Lane and again defeated. He went home for a brief furlough.
Stonecypher returned to Wilkes Court House, again joining with Colonel Cleveland. He remained with Cleveland until the latter was assigned to the Lejis Catuce. Stonecypher was then placed under the command of Colonel Hearne with whom he continued to serve until the Battle of Guilford (Court House) in March, 1781. At Guilford he was placed among the riflemen under Colonel Campbell. He was wounded in that battle. He returned home for his wound to heal.
In October 1781 he reentered service under the command of Captain Keys, Colonel Hearne and General U. Lowell. They marched to Pleasant Gardens on the Catawba River. From thence they engaged against the Indians who were siding with the British in Cherokee territory. The militia engaged in burning Indian villages at Wautauga, Cowee and Sugar Creek. He served until December, 1781. He was honorably discharged at Wilkes County Court House by Colonel Cleveland. Altogether, John Henry Stonecypher served three years as a private soldier in the Revolutionary War.
He married in Wilkes County, NC to Nancy Ann Curtis, daughter of Joshua Curtis, a lieutenant in the Revolutionary Army. Stonecypher was granted 20,000 acres of land in Rabun and Franklin Counties in Georgia in payment for his service in the Revolutionary War.  He and Nancy moved first to Hart County, Georgia in 1784. In 1786 they moved again to what was then Franklin County, Georgia and located on Eastanollee Creek where he built a dam and a water-operated grist mill. In 1790 he built a stately two-story house, hiring the services of an architect to plan and erect the dwelling.
He and Nancy had nine children:
Benjamin, b. 1787, Franklin County, GA, married Elizabeth Collins.
Susannah, b. 1790, Franklin County, GA, married William Nix.
James Thomas, b. 1793, Franklin County, GA, married Martha Ruth Camp.
Fannie, b. 1797, Franklin County, GA, married _______ Cannon.
Mary, b. 1799.  Never married.
Nancy, b. Nov. 11, 1800, d. March, 1854.  Never married.
Lucy, b. ca 1801, married Anderson Moseley.
Amy, b. 1803.  Married Cooper B. Fuller.
Phoebe, b. April 16, 1807, d. May 10, 1865. Married Daniel Moseley who operated the old Stonecypher Mill.
John Henry Stonecypher, Jr. died at age 96 on December 15, 1850 from injuries sustained in a fall from the mill house steps. Nancy Curtis Stonecypher, who was born about 1760, died July 12, 1852 (?). Both are buried in the Stonecypher Family Cemetery near the house he built at Eastanollee, GA.
Our lineage back to John Henry Stonecypher is through various family lines. Personally for me it is through my mother, Azie Collins Dyer, daughter of Francis Jasper and Georgianne Hunter Collins, Francis Jasper's father, Frank (or Francis) Collins who married Rutha Nix; Rutha's parents, William and Susannah Stonecypher Nix. Susannah's father was the Revolutionary War soldier John Henry Stonecypher, Jr.
In the Souther and Dyer lines, John Paul Souther who arranged the stone placement and memorial service for John Henry Stonecypher, Jr.  in 1994, was the son of Jeptha Freeman Souther and Mintie Dyer Souther. Jeptha's father was Jesse Souther, Jr. and his mother was Malinda Nix, daughter of William and Susannah Stonecypher Nix. And Susannah's parents were Pvt. John Henry Stonecypher, Jr. and Nancy Curtis Stonecypher. There are other ties in family lines.  James "Jimmy" Nix, son of William and Susannah Stonecypher Nix, married Elizabeth "Betsy" Collins, daughter of Thompson and Celia Self Collins. Jasper "Grancer" Nix, a son of James and Betsy, married Harriet Caroline "Tina" Duckworth—thus bringing the Duckworths and another  family into the lineage. John Washington Nix, a son of "Grancer" and "Tina" married Cathryn Clarenda Dyer, a daughter of Henderson Andrew Dyer and Adeline Sullivan Dyer. Henderson Dyer's parents were Micajah Clark Dyer and Morena Owenby Dyer. Clark Dyer invented "The Apparatus for Navigating the Air" and received a patent for it in 1874. Micajah Clark Dyer was the son of Sarah Elizabeth (Sally) Dyer, the first-born of Bluford Elisha, Jr. and Elizabeth Clark Dyer, first Dyer settlers in the Choestoe Valley of Union County, Georgia.
We salute our ancestor, John Henry Stonecypher, Jr., soldier for freedom in the American Revolution. His descendants are many. His legacy shines as a beacon to liberty.
[Sketch written by descendant Ethelene Dyer Jones, compiled from Stonecypher Family History by Watson B. Dyer and others and additional family information (Collins, Nix, and online) sources. Keith Jones shortened this sketch and presented it at the Dyer-Souther Heritage Association Reunion on July 18, 2009 when the program theme was "Honoring our Revolutionary War Patriots."]
——————————————
This sketch, written by Ethelene, is as well researched as the others I've shared with you-but one line-makes it my favorite. The quote that came directly from the mouth of John Henry Stonecyper Jr. – "I received no pay other than the liberties of my country."
I believe that summed up the feelings of the patriots who fought for the birth of America. Some how they each realized what was at stake. They realized America was an opportunity that would never come again-an oppourtunity for them and their families to live in freedom.
Although I doubt they could have envisioned the life we live in 2014-I do believe they fought for something bigger than their immediate wants and desires-they fought for the greater good of the new country of America-and that means they fought for me.
Tipper
p.s. "The Apparatus for Navigating the Air" is a fascinating story in itself! Hopefully Ethelene will share it with us someday soon.