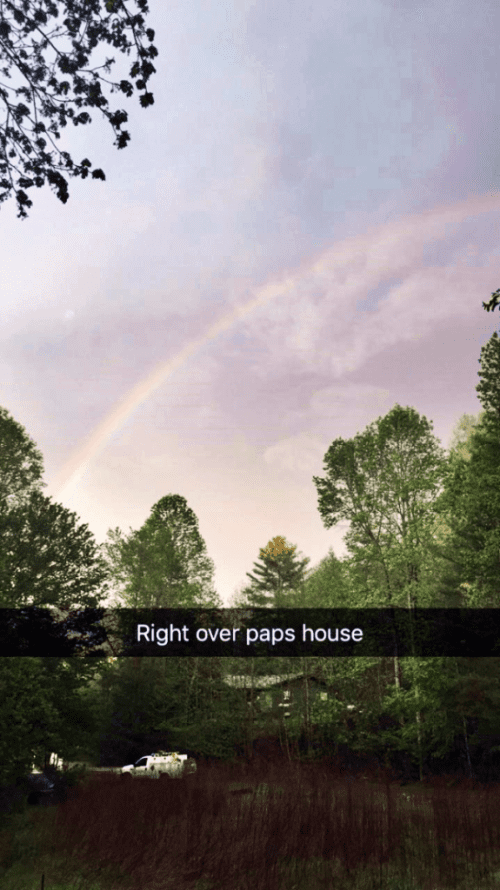 Rainbow over Pap's house after his funeral
It was a little before 3:00 a.m. on Tuesday April 19, 2016 when Granny called and told me I better come Pap was in a bad way. I told her I'd be right there. I was disoriented because of the time and because of a dream I was having that was so real that I couldn't seem to break free from it. I was dreaming about Pap and his best friend L.C. who died the previous year. In my dream L.C. and Pap were laughing and having a big time just like they always did.
I hurriedly splashed water on my face, brushed my teeth and threw some clothes on. I told The Deer Hunter I'd let him know if I needed him and ran down the hill. As I rushed down the road in the darkness I thought to myself "L.C. you can't have him yet." Silly, ridiculous, and slightly crazy I know, but that's exactly what I thought.
Pap was thrashing around trying to get away from the awful pain he was feeling. I administered the meds the hospice folks had taught me how to use, but nothing seemed to help. Granny said he'd been up since midnight, but wouldn't let her call me until it got real bad.
Pap cried out to God "Why won't you let me die Lord? Please have mercy on me even though I'm so unworthy."
Granny paced and I gave him more medicine once the allotted time rolled around, but nothing helped. Pap kept changing positions from standing to sitting. He said laying down only made it worse although he continued to thrash and throw himself backwards in a desperate attempt to evade the pain. He was eating nitroglycerin pills like they were candy. He was shaking and thrashing so that he kept asking me to put them under his tongue. His lips and mouth were ice cold.
Pap cried out to God again saying "I'd curse you like Job's wife so you'd strike me down if I wasn't so afraid of your might. Please have mercy on me."
The minutes seemed to crawl and time seemed to stand still as the helplessness of not being able to comfort Pap surrounded Granny and me. You might asked why in the world didn't we call someone-an ambulance or the hospice folks? We didn't call because Pap had decided months before he was done with prolonging his life. He knew death would soon receive him and he made his own personal decision that it would receive him from the comfort of his own home instead of in a hospital room among strangers. Pap had signed all the necessary papers to prevent a resuscitation initiated by any medical person or even by his own family. I didn't even know such a thing existed until my experience with Pap. It is often referred to as a DNR.
Gradually as the medications begin to take affect Pap begin to feel a little better and was able to at least get a breath as the intense pain abated slightly. He went ahead and took his morning medications in the hopes that might continue the improving trend he seemed to be on. Thinking I would take his mind off the pain I said "You'll never believe who I was dreaming about when Granny called." I told him what I had been dreaming and he said "Well Tip I wouldn't leave you for nothing if it weren't for this pain, but I'd gladly go along with L.C. to escape this torment and I'd go right now."
His comment about L.C. made me wish I hadn't told him about the dream. I was so afraid of losing Pap.
He continued to improve and decided he was going to put his pants on. Pap was a fiercely private person. I believe his worst fear was that he'd end up in a sick bed dependent on someone to take care of his every need. I said "I wouldn't start stirring around too much maybe you ought to wait a little longer before you try to put your clothes on. He said "Oh don't you worry I'm going to go so slow nothing won't happen."
Pap got his pants on and in the next little while he'd managed to get his long john shirt and his flannel shirt on over his undershirt. He was feeling better all the time-not good, but better. It was getting close to 6:00 a.m. I texted The Deer Hunter and told him I thought maybe the worst was over and that I was planning to go on to work. He said okay and that he was about to leave for work himself.
Granny laid down on the couch to get some rest and I sat watching Pap debating whether I should leave or not.
I said "Could you drink a cup of coffee?" He said "Yes I think I could." I got him a cup and then set back down for a few minutes.
As he stood by the heater warming he said "Tipper I think I'm alright you can go on to work but go in there and get me a candy bar out of that drawer before you go. I said "What kind?" He said "A three musketeers."
I walked into the kitchen with something bugging me, I figured out later it was the fact that Granny doesn't buy three musketeers. Before I even pulled the drawer out of the old metal cabinet Granny keeps her candy in I heard a horrible crash. I ran back into the living room and there lay Pap between the stove and the bottom of the day bed. He was already gone. He never even looked at me. Not one time. Granny started hollering and all I could do was cry "My dear old Daddy is gone. He's gone."
I might have felt a pulse one slow beat and that was all. I think he was dead before he even hit the floor. I called Paul not knowing he was in the shower and left some panicked rambling message. I called Steve and can't even remember if he answered or if I left a message for him. I called The Deer Hunter and said "Daddy died oh Daddy died." He said "Oh no! Oh no! I just opened the gate. Let me tell Brian and I'll be right there."
Paul burst through the door wanting to do something. I said "It's too late he's gone." Paul said "Call somebody!" I said "He didn't want us to call nobody and he's gone anyway."
I laid on Pap's chest and sobbed. I've never felt so sad in all my life. I cried and sobbed until The Deer Hunter came and pulled me off of him. Steve and his wife Kim rushed in but there was nothing left to do but call the funeral home and we didn't even know how to do that.
Steve called 911 and asked them what to do. They said a deputy and a medic had to come to declare the death then the funeral home could come.
We set and cried. Steve worried about Pap laying in the floor and wanted to move him but finally settled for putting a pillow under his head. Granny and I told the rest of them that he prayed to die, that God answered his prayer. It suddenly occurred to me, not only did God answer his crying plea for mercy He let Pap put his clothes on before he took him.
When the EMS folks arrived it was a gentleman and a lady. The gent took over the job of documenting everything that had happened and completed the necessary paper work. The lady set by me on the couch and talked quietly with the rest of us. After a moment of silence she said "I feel a lot love in this room. You're a lucky family. He was a lucky man. All the calls I go on don't have that feeling of love, actually most of them don't. You're lucky. Even though its sad you have much to be thankful for."
The deputy came next and since Pap had already told us he wanted his funeral conducted by Ivie Funeral Home they were called. In the mean time someone did call hospice and Pap's nurse Shawn came out. She said she had to be the one who officially declared Pap dead and by that time it was after 8:00 a.m. She said we should have called her first but it was okay not to worry.
The next step was moving Pap's car so the funeral home could get close to the door. The keys were no where to be found. We looked everywhere including in Pap's pockets but finally gave up on the keys and left the car where it was. Later in the day when we went to the funeral home the keys were with his clothes. I guess they had been in his pocket but when he fell backwards they came out somehow and became tangled inside the three layer of shirts he had on.
Who knew the funeral home process took so long? By the time we left there my teeth were chattering even though I wasn't cold and I thought my head was going to explode from the headache I had. We split up, I can't really remember why but I went with the ones who were going to pick out the place for Pap's grave at church. I could go no further than a picnic table at the edge of the parking area. I laid on top of it and said any place they picked would be fine with me.
Once we got back home I laid on the day bed while people brought food and The Deer Hunter and the girls mowed the yard. The chaplain from hospice came, he had visited with Pap and Granny on several occasions. He told us the price for great love is great grief.
Just before we left the house to go to the funeral I told The Deer Hunter to wait I forgot something. I jumped out of the car and ran to my closest flower bed. I picked a handful of lavender snow drops to put in Pap's hand. I don't know what made me think of getting the flowers, but I think Pap would have liked knowing they came from my yard and that his Tipper put them in his casket. Granny made sure he was holding his favorite Marine hat too.
Tons of people came to the funeral as I knew they would. The church parking lot was over flowing with cars parked up and down the highway in the grass. Pap was known far and wide from his many days of coaching baseball, singing and picking the guitar, teaching Sunday school, delivering oil, and building houses. The Deer Hunter always said "If your Daddy and me went to New York City I guarantee he'd run into somebody he knew in the first 15 minutes of being there."
John Ivie could not have been nicer to us during the whole ordeal. Once he found out Pap was a Marine he arranged for Military Rites at the graveside. Granny rode across the road to the grave leaving Paul, Steve, and me to walk together. With arms entwined we held each other up and shared a smile when we heard a man playing Amazing Grace on bagpipes. The song was lonesome and beautiful all at the same time, the reason we smiled was we wondered what Pap would have said about the man's kilt. We have no idea who asked him to play, but sure are thankful they did.
Pap's pastor of many years, Paul Ray Morgan, conducted the graveside service. He said Pap had recently told him "The Lord's waited on me my whole life now I'm just waiting on him." Two sharp dressed Marine's folded the flag a top Pap's casket and presented it to Granny. It made me wish Pap could have seen them.
After we were home my nephew Mark took the picture of the rainbow over Pap's house.
The rainbow seemed like a sign that everything had worked out just like Pap wanted it to and that we would be alright until we meet him again on the other shore in the shallow water where he told Granny he'd be waiting.
Tipper
p.s. To read Pap's obituary go here: Jerry Marshall Wilson 1937 – 2016