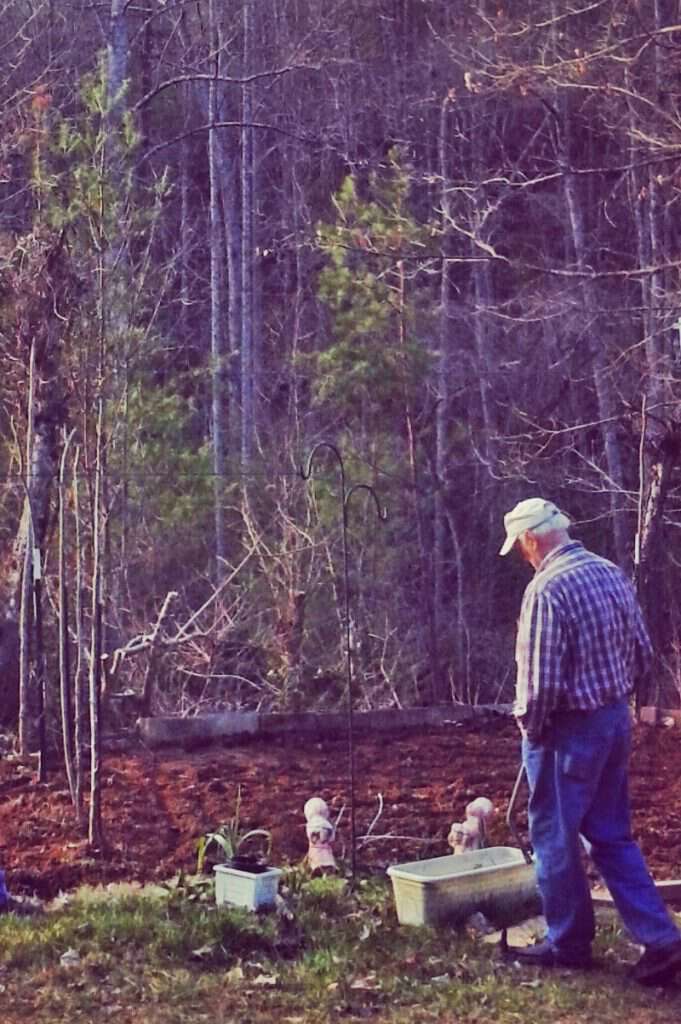 Pap – April 2016
I've been studying about this day last year-April 18, 2016-the day before Pap died. It was a Monday like most any other Monday with the only difference being I left work after lunch to take Granny up to Hayesville to see the eye doctor. There wasn't anything wrong, it was just her yearly check-up.
The exam went great. Granny's eyes hadn't changed from the previous year and she didn't need new glasses. I actually saw the doctor that day too.
Back in January of 2016 when Pap had his second heart attack my left eye was so red and irritated one of the emergency room nurses at the VA even asked me if it was okay. Granny said she'd had enough of seeing my red eye and that I was going to go with her the next time she went to her eye doctor. I swear Granny made that April appointment before Pap even got put out into a room.
Between January and April my eye cleared itself up and a quick eye exam showed I needed glasses, but the doctor said my eyes weren't bad enough to switch from my walmart readers to a prescription strength just yet.
Feeling good about our eyes Granny and I headed for Brasstown. Once we were home I followed her into the house to see what Pap was up to. He was sitting in his chair watching tv. We talked about Granny's eyes and my eyes, the weather and the coming garden season. Pap also talked about how he had been feeling better. He said "I probably shouldn't even mention it, but I've had a pretty good stretch of days."
I headed home to make supper with a light heart, never thinking my world would change forever by morning.
I can hardly believe Pap's been gone a year. I never thought I could make it without him, but I have made it, just like he told me I could.
Grief is a funny thing. I was so heart broken after he first died I could barely make it through the day then seemingly overnight my grief turned to a weird detachment of sorts. I found myself wondering if he really existed? Was he real or was he some hero we all dreamed up to make ourselves feel better?
My weird questioning doubt always brought to mind a story I'd heard a blue million times about my older brother Steve. One day he ran in from playing to ask Pap and Granny if he was real or if he was just a toy. I'd start thinking of Steve being so curious that he wanted to know if he was a real boy and that would cause me to think of stories about Paul, about me, and about all the grandkids and then I'd know for certain Pap was real for without him there'd have been no stories to tell.
After Pap died I was so afraid of dreaming of him that I kept myself from doing so until I began to worry I'd never dream of him. Of course I finally did and it was real and comforting. Since then I've dreamed about Pap several times but its all of the silly variety. One night I dreamed we were down in Hanging Dog on the lake when the water was down and Pap was driving The Deer Hunter's big brown Chevy truck he had when we were first married. Pap was a determined man in that dream-he was trying his best to drive that truck straight up a red clay bank with me holding on for dear life and begging him to stop. As he shifted into second gear for another go at the bank he told me to hush and before I knew it he had Nadine (that was the truck's name) out of the lake bed and back up on level ground.
The girls dream about him often. I can usually tell because they'll be teary-eyed of the morning. Chitter told me about one of her Pap dreams the other day. While she was in tears about it I actually found it funny. She dreamed she was talking to Pap down at his house, but she knew he was dead and hated to have to tell him he was a ghost. She said "I just kept staring at him and he asked me why I was staring at him and I just couldn't tell him he was a ghost."
If you've not had enough of my memories of Pap's passing come back by tomorrow and I'll share the rest with you. If that sort of thing isn't your cup of tea I totally understand, but I feel like I need to tell Pap's death story for those who've told me they want to hear it.
Tipper