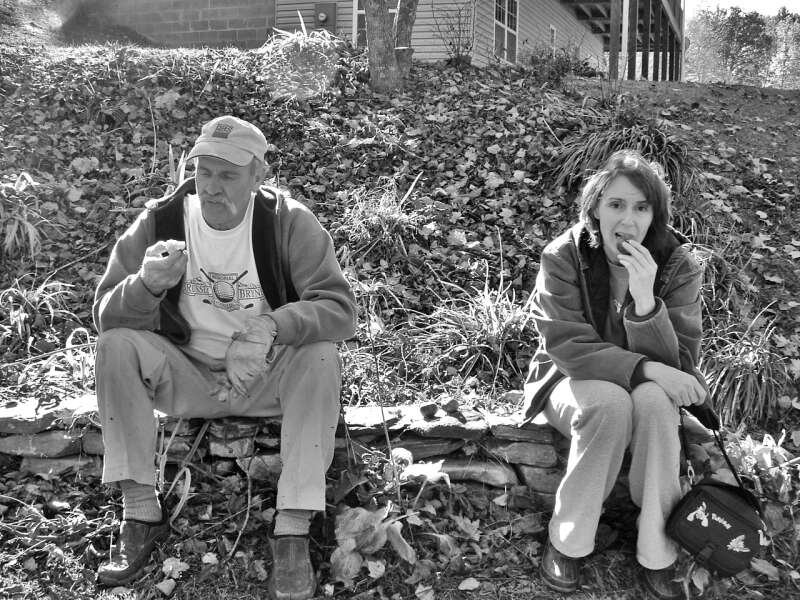 Uncle Henry and Tipper tasting an apple from one of his trees
Do you ever have one of those weeks where you just keeping getting bad news? That's the kind of week it's been around the Blind Pig house. As I worried about people who lost loved ones and people who are praying they don't lose a loved one I was reminded of a song Pap and Paul used to sing Jesus Won't You Come By Here. They learned the song from the movie Sounder. I believe it's an old negro spiritual although I've never heard anyone sing it other than the folks in the movie and Pap and Paul.
The video below was filmed back when Paul was in college. I love seeing Granny's old furniture with the handmade slipcovers and the matching curtains she made. I went with Pap when he bought the furniture from a man who looked like Orson Wells. The man was drinking wine-which totally shocked a 7 year old Southern Baptist girl. I remember Pap laughing when he told Granny I was afraid of the man because he was holding a wine glass that had apparently been filled many times that day.
The song conveys such a plaintive sound of need that it looks like more folks would sing it. Even with the compelling need of the words the beauty of the human spirit comes forth in the harmony and Pap's high tenor.
My Uncle Henry suffered a significant stroke on Thursday and things aren't looking so good for him. If you've got an extra prayer or good thought please send it his way.
Tipper