Today's guest post was written by Jim Casada. Be sure to stick around to the end of the post for another Thankful November giveaway.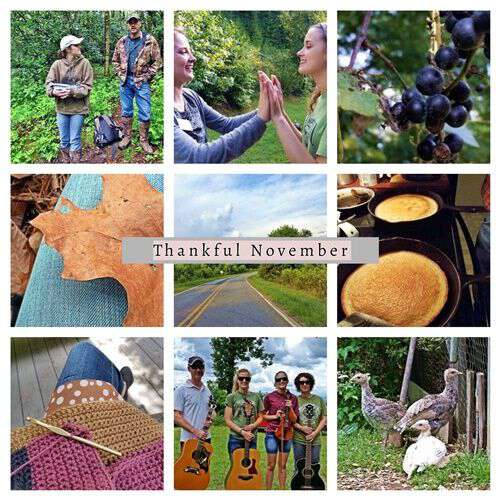 MOMMA'S APPLESAUCE CAKE written by Jim Casada
As I've noted time and again over the years, a fair share of my most powerful and poignant holiday memories revolve around food, and each year at this season I find myself involved in some culinary time travel back to my boyhood. None of those recollections is deeper or more meaningful than ones associated with Momma. Not only was she a wonderful cook; she thoroughly enjoyed preparing dishes for the holiday season.
A half century ago, along with decades on either side of that time span, come this specific weekend (immediately on the heels of Thanksgiving), she would have set a specific task set for herself. While Daddy and her sons were gone on all-day rabbit hunts, and while her daughter likely hung out with some friends or perhaps worked on some sewing project, Momma went into full-scale baking mode. For this particular weekend, and it was a fixed part of her annual routine, she concentrated on making applesauce cake.
Maybe a bit of background information is in order at this point, because the setting and the way the ingredients were produced are an integral part of the story. Two of the key ingredients in her applesauce cake were the fruit which gave the wonderful dessert its name and black walnuts. We raised the apples and the "applesauce" which went into the cake came straight from our tiny orchard. We had a small apple orchard on the hillside below the house, and Dad tended the Red Delicious, Stayman, and Golden Delicious trees with great care. That meant annual pruning, careful spraying, and hard if joyous work at harvest time.
Much of the apple crop would be canned in late September or early October, with Mom's annual goal being 200 quarts of cooked apples. Thanks to those efforts, seldom did a day, especially in the colder months, go by when we didn't have cooked apples on the table (it wasn't really applesauce in the sense of that name as applied to store-bought stuff; just stewed apples cooked to the point of falling apart before being canned). Other apples would be dried, providing the key ingredient for a mainstay of hearty winter breakfasts, fried apple pies, as well as the layering for stack cakes.
The cream of the crop, those apples which were unblemished and not used in the frenetic period of peeling, cooking, and canning, was stored in a huge bin and airy baskets in the basement.One of my youthful jobs was to go through these every week or so to cull out rotting apples. Typically I would catch them when they just showed a spot, and Mom would turn these into a cobbler which was delicious and easily prepared.
By the end of November we had already gathered the year's harvest of black walnuts as well, and these too went into a variety of Christmas delicacies. We cracked them as a family and picked out the meats. It was a tedious but ultimately rewarding process. A marriage of the oily, pungent flavor of walnut kernels with the juiciness of apples, the meaty tang of raisins, and just the right blend of spices made for a cake of incomparable delight.
By the end of the Thanksgiving weekend, Mom would have the year's batch of applesauce cakes made, with all of the work being done while her sons and the man of the house were busy getting another rabbit season off to a rollicking start. Look back, I'm sure she was glad to have us out from under foot.
Come Sunday after Thanksgiving, she would have a bevy of perfectly baked applesauce cakes "aging" in a downstairs room we never heated. They got better with each passing week, thanks at least in part to the addition of a dollop of wine or apple cider to keep them moist and because, like fruit cakes, they benefited from a bit of time before being eaten. I think a few weeks just allowed the myriad flavors to mix, mingle, and eventually mate in a marriage of perfect taste. Whether that was the case or not, those cakes were sacred and inviolable until the week of Christmas. Not a bite was eaten up until that point.
But oh the glories of that first slice of her applesauce cake! It was so moist it literally shown in the light like dew or frost sparkling on grass as the sun clears the eastern horizon, and to take that first bite was to be transported into a hillbilly heaven of fine eating. Unlike many cooks, Momma was never selfish with any of her specialties. Unfortunately, when afflicted by Parkinson's Disease late in life she went through a spell of "throwing away" which saw her dispose of many of her wonderful recipes. This one survived that purging though, and here it is. While the cake is delicious right out of the oven, I recommend the periodic anointing with moisture (just a couple of tablespoonfuls a week) for a fortnight or more.
APPLESAUCE CAKE
1 cup butter (the real McCoy, no margarine substitutes)
2 cups sugar
4 cups flour
1/3 cup cocoa
4 teaspoons baking soda
1 teaspoon cinnamon
2 teaspoons allspice
2 cups raisins
3 cups applesauce
2 cups black walnut meats
2 teaspoons vanilla
Pinch of salt
Cream butter and sugar.  Add applesauce and remaining ingredients a small amount at a time, mixing as you go. When the batter is ready pour into a Bundt-type cake pan and bake for 50 minutes to an hour at 350 degrees. Check with toothpick to see if cake is done (toothpick will come out dry). Cool and then store in a cool place (the bedrooms in our home were unheated and a closet in the downstairs one became a temporary cake repository each December).
—-
I hope you enjoyed Jim's post as much as I did! I can't wait to try his mother's recipe.
Today's Thankful November giveaway is the cookbook "Wild Fare & Wise Words" which Jim and his wife Ann contributed too. The book is signed by both of them and it contains a ton of delicious recipes! Giveaway ends Thursday November 29.
Tipper
Subscribe for FREE and get a daily dose of Appalachia in your inbox