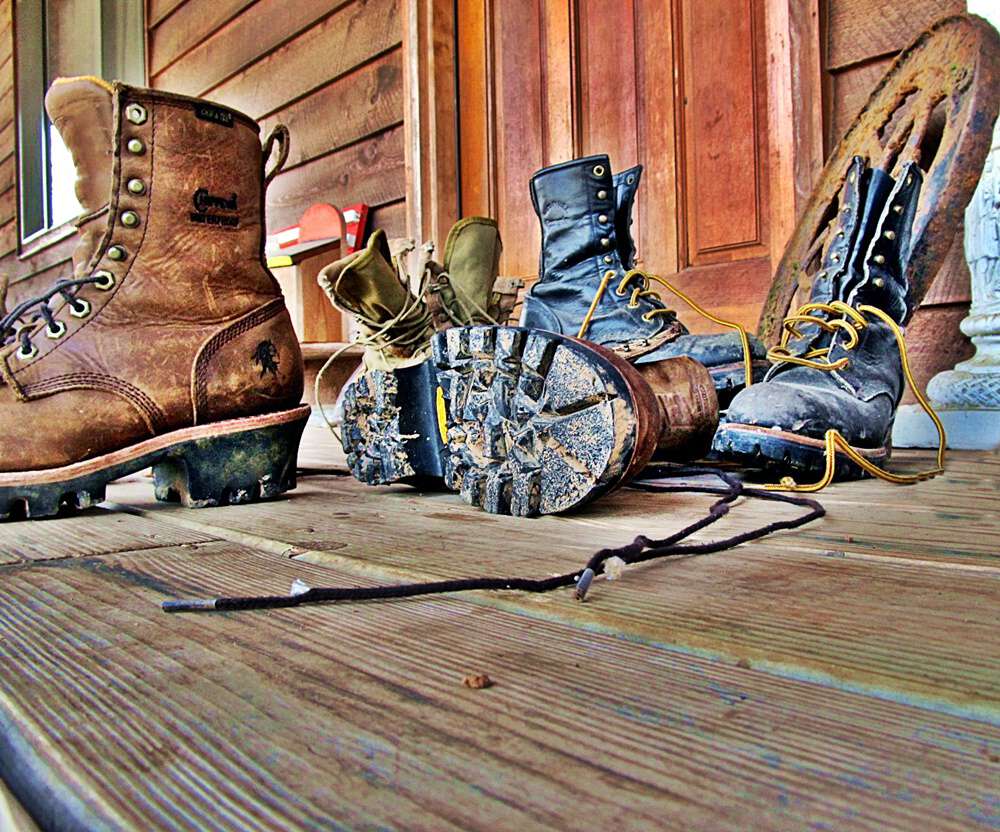 brogan noun
A variant pronunciation with stress on both syllables ['bro'gaen].
1942 Hall Phonetics 57. 1967 DARE (Gatlinburg TN).
B (also brogan shoe) A coarse, heavy leather shoe tied with thongs, often homemade.
1937 Hall Coll. Emerts Cove TN brogans = heavy work shoes, strong enough to cut the mud. (Will Shults) 1939 Hall Coll. Saunoook NC Those brogans are weighing you down. (Bill Moore) 1943 Hannum Mt People 142 There were no rights and lefts to those homemade brogans, square cut from tanned hid…Gradually they wore to shape. 1956 Hall Coll. Roaring Fork TN Back then when we didn't make our shoes, my dad would buy us one pair a year and it was a brogan shoe, called 'em brogans, of course, heavy leather, and if we wore the shoe out, we went barefooted. (James Huskey) 1969 Hall Coll. Gatlinburg TN we'd have just one pair of brogan shoes a year. We'd sell chestnuts or fur to buy them. (Lewis Reagan) 1991 Haynes Haywood Home 37 Brogan shoes were for winter wear, but in summer, everyone wore home-made leather moccasin-like shoes for everyday wear. Brogan shoes were made on a straight last so that both shoes were alike. There was no left or right shoe, and it didn't make any difference which shoe was put on which foot. 1997 Nelson Country Folklore 36 She measured my foot with a stick and said she was going to get me some brogan shoes, shoes that would last.
[diminutive form of Irish Gaelic brog "shoe"; DARE esp common in South, South Midland'
Dictionary of Smoky Mountain English
——
Over the years the word brogan has changed to mean heavy work boots, at least in my area of Appalachia it has. Pap told me when he was a boy the word was used in the same way described in the dictionary, but even he used the word to describe boots in my lifetime.
According to this site the history of the word brogan can be traced back to brog which is the Irish Gaelic word for shoe (like the dictionary indicates). Another website, wiseGEEK, says brogans were a popular type of working class boot in the 17 and 1800s and that many soldiers of the Civil War wore brogans as part of their standard uniform.
The word brogan, in relation to work boots, is still fairly common in Cherokee County NC.
Tipper