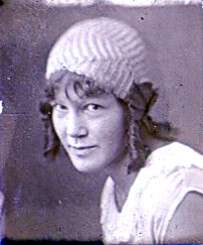 Here I stand both fresh and fair,
Dark brown eyes and curly hair,
Rosy cheeks and dimpled chin,
One little heart that beats within.
*Rhyme collected in North Carolina 1922.
————–
I greatly enjoyed all the comments on our first rhyme of love Weevily Wheat! Fascinating to learn it was used in a play party game (dance). Hopefully some of you will be familiar with today's rhyme as well.
The winner of the Valentine card giveaway is…
#14 Ethelene Dyer Jones who said:
My post is late today, but I want to join in spreading a little love around. Valentine's Day has a sad remembrance for me. On that day when I was 14 years of age, my dear mother died. Each Valentine's Day I remember her with love, but wish I had known her longer. Then when I was in college, I met a nice, nice guy. His first Valentine's gift to me after we'd been dating about a month was a bud vase with one American beauty rose and one rose in bud. The arrangement had baby's breath and the vase had a beautiful red satin ribbon. Every Valentine's Day after that this "nice, nice guy" who married me gave me roses! It became such a tradition that when he became disabled and could not remember to do so, our children (or grandchildren) sent me flowers with the love tag from their father (or Papaw) to me! Since his death, the Valentine flowers have arrived each year on this special day. So even if sadness permeates the day for me, I know that I was truly (and am still) loved! As we look forward to Valentine's Day, lets make a special point of spreading around some true love to those dear to us!
Ethelene-send me your address and I'll send you some handmade Valentine cards!
Tipper