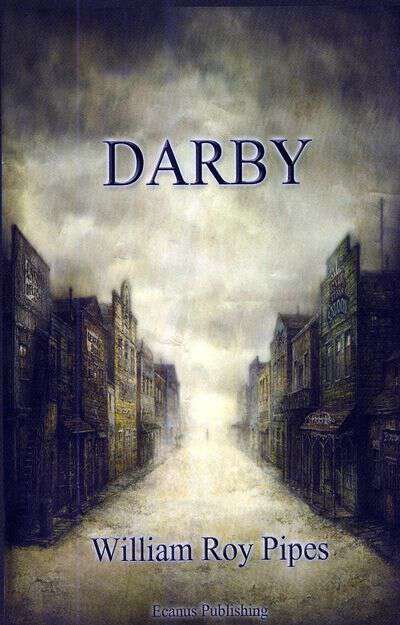 I heard the name Roy Pipes often as I was growing up. When I was a kid Roy was the Superintendent of Cherokee County Schools. Roy was also a teacher in Cherokee County for many years as well as a Principal. A few months ago, I stumbled across information about Roy's new book, Darby.
I contacted Roy and after a few email exchanges Roy sent me his book. After reading the description of the book I couldn't wait to read it-I mean who doesn't love danger, suspense, romance and intrigue?
Darby is a great read. It is full of suspense and romance. The suspense part made me so mad I wanted to put myself in the book and take care of business! And the romance part-is true romance-the kind that lasts forever-through the good times and the not so good times.
After reading the book I knew I wanted Roy to be part of my Appalachian Writers series. (you can read the interview I conducted with Roy below)
—————–
Did you grow up in Appalachia? If so what part?
I was born in the Peachtree Community of Cherokee County. The house where I was born is still standing. My father was a school teacher so we moved some, but most of my life was in Peachtree. I now live on land that was once my grandfather's farm.
Did you want to write as a child?
No, I'm sure I wrote in grade school, high school, and college. I sent a short article, Contrast: Empty or Filled that I wrote in college to the Biblical Recorder. They published it June, 1976. After college I wrote several educational pieces. I still have some, but most are long gone. I wrote my first funny article, Mitzi, but I don't remember when. People can read several contest pieces that won 1st through 3rd place in contest. One poem, Wordsmith or Poet won third place. These and many others articles can be read on my blog: roypipes.
What were your writing influences?
First, I would have to credit my father, R.C. Pipes, as we (didn't have television) and he read to us – so much that I memorized some of the poems he read. Poems such as: The Spider and the Fly, The House by the Side of the Road, The Raven, The Old Dutch Clock and the Chinese Plate, to name a few. My mother sang to us, and we were taken to church regularly. My wife Betty influenced me by her encouragement and her editing. Teachers were a big influence. I can't name them all but I remember Miss Travis, Mrs. Coons, Mrs. Miller, and my first grade teacher, Miss Gladys. I could name many, many more. I never had a poor teacher.
What was the first piece you ever had published?
Contrast: Empty or Filled published by the Biblical Recorder in 1976. My first novel was Darby.
Darby is set in Appalachia-do you feel it's important to write about your own heritage?
Yes, I think it makes your novel seem more realistic, it's easier to write, and you know the dialect. Darby, while fiction, is a real Appalachian community located in Wilkes County, NC. My father was born there. He told me a true story that took place in Darby when he was about ten. His story is the foundation for my novel. We used to hold Pipes' family reunions there, and my wife and I while writing my novel visited Darby.
Do you have other published books/writings?
I mention several above. Darby is the only novel, Twinkle, Twinkle Little Star is a novelette published in February, 2012 (available on Amazon). Other writings not mentioned above: Aunty Ant, The Farm, Hoppy, Vacation, Identical Twins, Washington Heights, The Administrator's Role in Teaching Thinking and Reasoning Skills (Dissertation), and a pamphlet: Teaching Thinking and Reasoning Skills Using the Three R's, and several other educational articles. I have the sequel to Darby titled, Hanging Dog, An Appalachian Community written, but not yet published.
Are you involved or connected with other writers-like a writer's group or Forum?
Yes – I am involved in several: Pinterest, LinkedIn, Christian Writers, Goodreads, Aspiring Writers, Atlanta Writer's Café, Fiction Writers Guild, Facebook, Wordserve Water Coolers, Appalachian Heritage Writers Symposium, & Writer's Bureau.
Where can folks buy your book and find out more about you?
My book can be purchased locally at the Curiosity Book Store in Murphy, and Hill Gallery in Brasstown. On line (internet) the book can be purchased as either kindle or paperback on Amazon.com or Barnes and Noble. People can read more about me by going on Amazon.com, and click on my name (William Roy Pipes) my name will be in blue and read my Author's Page. My website has some information about me.

Can you sum up what Appalachia means to you?
Appalachia is my way of life. Someone asked my wife how I knew the Appalachian dialect I used in my novel Darby. She answered, "That's the way he talks."
—————–
I hope you enjoyed my interview with Roy-and I hope you'll give his book a read. Below is Roy's contact information if you'd like to contact him directly.
William Roy Pipes
[email protected]
917 Upper Peachtree Road
Murphy, NC 28906
828 361-0333
Tipper