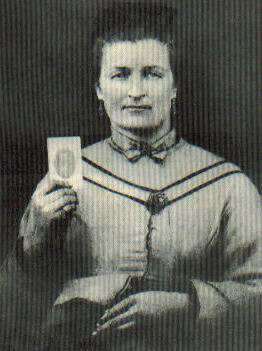 Female Soldier and Bushwhacker in the Civil War written by Maggie MacLean
Union sympathizers Malinda Blalock and her husband Keith enlisted in the Confederate army near their home in the mountains of western North Carolina, planning to desert and join the Union army. In the meantime, Malinda was wounded. The couple deserted and returned home where they became the most feared bushwhackers in the mountains, feared by secessionists and Unionists alike.
Sarah Malinda Pritchard was born in 1842 in the Appalachian Mountains of western North Carolina. She met William McKesson Blalock (nicknamed Keith) in a one-room school they both attended. Their marriage in 1856 was a shock to their neighbors, because their families had been feuding for 150 years.
The couple resided on Grandfather Mountain, where mountaineers were divided regarding secession and impending war. It seems that Malinda originally sided with the Confederates, while Keith opposed the election of Abraham Lincoln, but was an ardent Unionist.
When the Confederate recruiting officer came to town seeking enlistments for the 26th North Carolina Infantry, Keith joined the regiment, planning to later pass through the lines and join the Union army. Fearing for Malinda'a safety at the hands of the secessionists, he made sure they saw him march away with the Rebels.
Malinda had plans of her own. Barely had Keith begun his march to the depot that would carry him to the war when he noticed a small young man marching beside him. It did not take him long to notice the new recruit was his wife, Malinda, who had dressed in her husband's clothes and cut her hair short. At the enlistment station in Lenoir, NC, she signed her enlistment papers as twenty year old "Sam" Blalock, Keith's brother.
Malinda was one of only two women known for having served in any North Carolina Confederate regiment. Keith turned out to be a better soldier than expected being appointed a brevet sergeant almost immediately. His men were fond of him and quick to obey his orders. His standing order to "Sam" was to stay as close to him as possible.
The 26th Infantry was soon transferred to New Bern in eastern North Carolina. In a night operation Keith's company received orders to scout for enemy pickets they hoped would lead them to the location of General Ambrose Burnside's regiments located further up the coast.
A firefight soon broke out. Keith and most of his men managed to make their way to the safety of their side of the Neuse River. However, much to his dismay, upon reaching the shore, he found a wounded Malinda propped up against a pine tree, a bullet embedded in her left shoulder. Carrying her in his arms back to camp he turned her over to the surgeon, Thomas J. Boykin.
Realizing Malinda's identity would soon become public knowledge, Keith began devising a plan that would secure his release from Confederate service. In the dead of night he slipped past the pickets and found a bed of poison oak, prevalent in that area. Stripping himself bare he rolled around in the toxic substance. The next morning he appeared for sick call with a high fever and a rash. The surgeons, fearing an outbreak of small pox, authorized his immediate medical discharge.
This suited Keith's purposes perfectly but left Malinda in a bind. Her wound was not serious enough to garner her a discharge so she decided to personally plead her case to Col. Vance, saying she wished to accompany her brother home in order to care for him. When that plan failed, she had no choice but to reveal her gender to her commanding officer, who then had no recourse but to send her home. They were both released on April 10, 1862.
The Blalock story does not end here. The couple returned to the mountains, but Confederate agents discovered that Keith was healthy and ordered him to re-enlist. To avoid conscription, the Blalocks moved and started hiding out with other draft dodgers.
In a few months the couple became raiders for the Union army throughout the Appalachian Mountains, and terrorized the citizens of western North Carolina. They assembled a band of marauders and raided the farms of Confederate sympathizers. In one of these operations, they shot it out with the Moore family and Malinda was wounded. At another such incident, Keith had an eye shot out by one of the Moores.
Essentially the Blalocks became the most feared bushwhackers of the western North Carolina mountains. Bushwhacking, thieving and murder became their hallmark. Malinda was always by her husband's side as they made foray after foray into the countryside terrorizing the locals as well as their Yankee compatriots when the need arose.
Then Keith became a leader in the "Watauga Underground Railroad," which helped Union prisoners escape from the Confederate prison in Salisbury, North Carolina, the largest in the state. He guided those men through the mountains and safely into Tennessee, but the Confederate patrols were making that job increasingly tougher.
When the war was finally over the brazen young couple moved back to the cabin in Watauga County to live the rest of their lives as farmers. Keith and Malinda's four children who lived to adulthood gave them several grandchildren.
On March 19, 1903, Malinda Blalock died in her sleep of natural causes at the age of 61. She was buried in nearby Montezuma Cemetery. A heartbroken Keith moved in with his son, Columbus, in nearby Hickory.
On April 11, 1913, Keith Blalock was killed in a freak accident while pumping a hand car along a local railroad. Rumors circulated that it was no accident but a final payback for all the grief he and Malinda had brought to Watauga County during the war. However nothing ever came of the rumors.
On April 14, 1913, William McKesson (Keith) Blalock was laid to rest beside his beloved Malinda.
SOURCES
Malinda Blalock: Confederate Soldier
NC History Project: Sarah Malinda Pritchard Blalock
Women in the Ranks: Concealed Identities in Civil War Era North Carolina
———————-
I hope you enjoyed Maggie's guestpost as much as I did! She has an entire website about women of the Civil War. Jump over and check it out by clicking here: Civil War Women.
Tipper