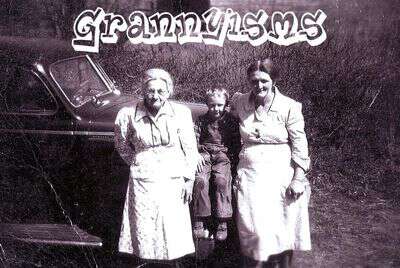 If you look at the top of this page-you'll see a link to my Grannyisms-page. I've been collecting memories-precious, funny, and inspiring about people's grandmothers on the page ever since I started the Blind Pig.
Below you can read a few of my favorite Grannyisms left by folks in the last several months-then you can jump over and leave your own Grannyism!
Tipper said:
Granny is always worrying about Chitter and Chatter eating enough-they are skinny girls. Last week Chitter went down to visit Pap and Granny-as soon as she stepped in the door Granny started trying to feed her some of their leftover supper. Chitter said she wasn't hungry-but Granny just kept on telling her she should eat. Finally Chitter said "No Granny I'm not hungry I just ate some goldfish." Granny said "Lord child don't tell me you've been eating goldfish! Is that all they have to eat at your house?" Of course Chitter was talking about the crackers-not the fish.
Robert said:
My "Mama" had two sayings that I'll always remember but have never heard elsewhere. If we were hanging around in the house on a nice day: "Mess and gom, mess and Gom — all you children do is mess and gom and I don't have time to clean up after you."
And the other, to let us know she meant business after asking us to do something and we tarried: "You don't believe cow horns will hook, do you?" A threat that there would be consequences if we didn't do it NOW. 🙂
Jennifer in OR said:
Patricia said:
My Mother was borned in 1917, in a small community of Fairview in Scott County,VA. She was raised by relatives, because her own mother passed away giving birth to her 13th child. Mom gave birth to me, her only child, in July of 1957. I lived her life in the stories that she told me about life in the 20's 30's 40's. How sad that I didn't write down all the things that she told me about canning. I was looking for a good time to make Kraut, by using the Zodiac signs. I have found sites that tell me the best time is in the third quarter of the moon, when signs are in the head, neck, breast or heart. My cabbage is ready,so I am going to try to process it while the signs are in the head. I will let you know how it turns out.
Cyndia said:
Lord help (one of my grandmother's sayings) I could write a book about my Grandma Cecil. She was in the middle of five boys, so grew up thinking she could do anything they could do. She loved to tell stories. She told of picking cotton to support the family, leaving the baby at the end of the row, and pick down one row and on the next row would pick her way back. She told of making dolls for her girls out of scraps and that her only cash purchase one year was a 9-cent crochet needle. Many a warm summer evening was spent rocking on her porch as we shelled peas and told stories. She put a hammer in my hand and taught me to fix things. Nobody could fry chicken livers the way she could. She could laugh in a big bellied whoop and yell "shit-fire" when she got mad. She was the strongest woman I ever knew, and she taught me so much. I sure do miss my grandma, only she never liked to be called that. She always insisted on "Cecil".
———————–
I hope you enjoyed all the Grannyisms! There are many more on the Grannyisms page-so jump over there and read them. And please leave one about your grandmother.
For those of you who have already left one-there is no limit-just keep posting your memories as they come to you-the more the merrier!!
Tipper