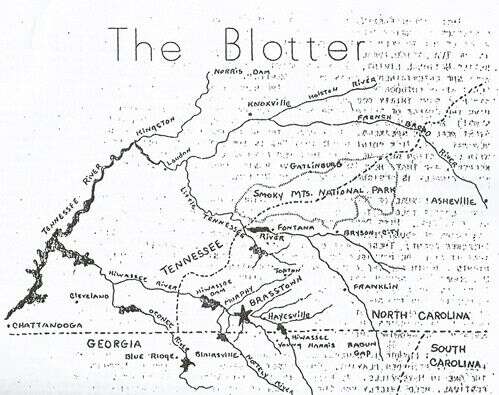 The Brasstown Blotter was a small publication published in the late 1930s and early 1940s by the John C. Campbell Folk School. In their own words: "The Brasstown Blotter aims to soak up local news, to boost local programs and enterprises, to be interesting reading."
During war time the Brasstown Blotter acted as a form of communication between those who had left to serve their country and those who were left in Brasstown. In the September 5, 1944 issue Georg Bidstrup begin with a letter to the boys and girls.
—-
Dear Boys and Girls,
Our aim during this period has naturally been to produce as much food as possible. We have done this, even increasing our production above normal. Wallace Massey and Johnnie Cantrell have kept the home front going in the dairy and, by the way, they are very proud of "Pop-Eye's" daughters.
March Coker is now producing milk on my own farm from a herd of eight cows. That with Dub Martin's dairy, of nine cows, is giving us encouragement in getting local milk production started.
Oscar Cantrell is busier than ever keeping old machines going both on the school farm and in the community, and additional responsibility has come to him as Hickory is no longer with us.
During the slack farm period this summer we have built a hammer mill shed with an adjoining corn crib. This is in the lumber yard so we can use power from the 40 hp moter. Frank Hogan has been the master-carpenter.
Raymond (Bun) McLain besides tending to the chickens has been fine help in the general farm work since early June. His mother —"Bicky" — has given such good vegetable service to Miss Gaines that she will be "plum spoiled"— if she can be spoiled!
I had some "pretty girls" to help me this summer. Ethel Capps a a Knoxville gym teacher, Ellie Lambert, and Lucile Gault stayed on after the Short Course for several weeks. They were excellent help in the garden; threshing, haying and dairy barn.
—-
This excerpt from The Blotter is a fascinating peek into Brasstown and their attempts to keep the home fires burning while the country was at war. I knew March Coker. Well I say I knew him, I should say I remember him. He went to the church where my Papaw Wade and Mamaw Marie are buried. He lived just below the church a ways and I always thought his house looked neat and comforting even though I don't think I was ever in it, unless I was too little to remember.
Tipper
Subscribe for FREE and get a daily dose of Appalachia in your inbox